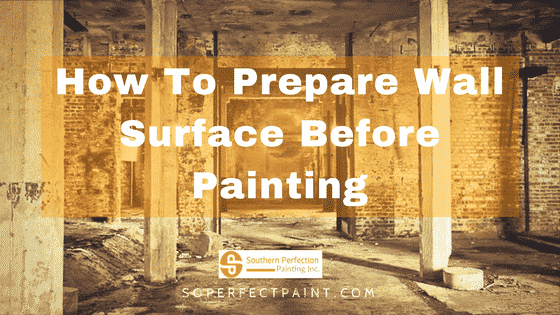 Surface Preparation
When you are choosing a commercial paint contractor in Berkeley Lake, you need to be sure that you are choosing an experienced professional. Whether you are doing the preparation work yourself or you are hiring the painter to do this work, it can be essential to know what needs to be done before you can paint a wall. This can help you to determine if the contractor knows what they are doing or not. Here is everything that you need to know about surface preparation before painting a wall.
Remove Wall Hangings
The first thing that needs to be done is that you need to remove all of the wall hangings in the space. This could be a very annoying task to complete, but it will help achieve the best results possible when painting. If you paint around them rather than move them, you can risk damaging the wall hangings or having to repaint the area when you get rid of it or replace it. It may seem easier to leave them up, but you are ultimately creating more work for yourself.
Remove Outlet Covers and Light Switch Plates
You should also be sure to remove the outlet covers and light switch plates before painting. By leaving them up, you run the risk of getting paint all over them and creating an unprofessional look.
Clean The Walls Thoroughly
It is also very important for you to make sure that the wall is cleaned thoroughly before starting the painting job. The biggest reason for this is because when you clean the walls, you are going to get a more uniform look to the paint job. Dirt, especially when it is a particularly oily mess, can be seen through the paint job and can affect whether or not the paint even sticks to the surface. If you are doing this yourself, be sure to pick a strong cleaning solution that is specifically formulated to deal with that particular stain. A professional will have high quality cleaners that handle all types of dirt and grime and will also use fans to speed up the drying process.
Work With An Even Canvas
Once the walls are clean, you want to be sure that you are working with an even canvas. Any holes or imperfections should be handled with spackle. This should then be sanded down so that it is even with the rest of the wall. You should also sand down any other part of the wall that needs it in order to create a smooth surface for painting. This is also a service that a lot of painting companies do when painting your space.
SPPI is a leader in the area for painting commercial and residential locations. We handle this surface prep work and more when we are discussing our prices. Contact us today if you are looking for a high quality professional for your location. We handle tasks of all sizes, offering a wide array of services that will certainly make you happy with how your home or business looks. Visit our website to learn more about how we can help you. Fill out the form on the right for a quick painting project estimate.
SPPI
Average rating:
0 reviews