Green Painting
As our delicate environment is steadily declining, we at SPPI have decidedly become increasingly aware as to how our business is affecting the environment. With the number of clients we serve, commercial and residential, many are asking if we have thought about using green products to aid preservation of our environment. We have researched this option through our education initiatives and wanted to share our findings with you. This topic will be a three part series and we will begin the first part with basic terminology.
FAQs (Frequently Asked Questions) on Green Painting Products: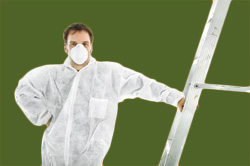 Question: What are green painting products? Are they paints that are colored green?
Answer: No. These are products that have low or no VOCs. These products emit lower odor and are better for your home and the environment.
Question: What does the acronym VOC mean?
Answer: The acronym stands for Volatile Organic Compound. This is the chemical in paint and other products that make it harmful to breathe in the vapors from the product.
Question: How do green products help our environment and family?
Answer: Green products release or emit lower chemical compounds into the air. This, in turn, helps us to protect our health, plants, and eco systems in the world.
There are other "Green" products. However, during this three part series on "Green" products, we will discuss several factors such as:
How using how using non-green products affects you and your family
How using "green" products will affect your financial green , and
How Southern Perfection Painting is committed to using green products and our take on the care of the environment
Stay tuned as we bring you "Go with the Green" over the next few months. If you in the meantime are in need of painting estimate for your commercial or residential property, don't hesitate to contact SPPI the "Green" and smart vendor choice.