No Eeny Meeny Miny Moe
Decided to hire professional commercial painters instead of doing the painting yourself? Ridding yourself of the hassles is good but before you begin shelling out your bucks to a contractor, do make sure you've done your homework in choosing the one.
Most people would give you a list of things to look into:
Experience
Manpower
Knowledge
Preparation work
Formal estimate
Cost
Guarantee
Legal licensing
References
These are definitely information you need to consider before making a decision in hiring commercial painters and contractors. But, it is still better to make sure you get into the most important details, particularly when it comes to the manpower, the paint to be used, the actual work to be done, the timetable and cost estimate.
Who will do the job?
It pays to know if the contractor will have its own people to do the job or if it will be subcontracted, and be aware of the coverage of its policies regarding compensation and general liability insurance. Whether there will be just one or a couple of people working on the project, make sure whoever starts the job will be the one to finish the job to ensure consistency in the quality of work.
What paint will be used?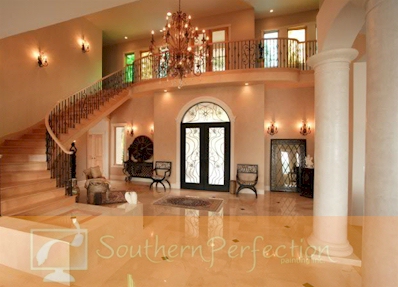 This is a painting job so knowing the kind of paint to be used is a big factor. You can go with an expensive one with a 20-year warranty, an inexpensive one because you know that you wouldn't want the same colors brightening up your home for two decades, or you can opt for something middle ground that need not last for a generation but will withstand the wear-and-tear until the next painting job. To save a few bucks, you may even opt to buy the paint yourself.
What will be done?
Find a painting contractor who is abreast with the latest products and techniques, and be able to come up with recommendations that will best suit your requirements.
How long will the job take?
Under ideal circumstances, a contractor should be able to finish an average-sized room in a day unless he needs to deal with some water damage or would need much preparation. Never be swayed by "the bigger the room, the higher the cost" line. You have a lot more space to move around in a larger room and enable you to set a regular pace. A smaller room such as a toilet and bath has a lot more elements in it (cabinets, sink, tub, etc) entails a longer time to paint than a much larger but bare or open area.
How much?
The bottom line almost always comes to this – the cost. It would be heaven if we need not worry about cost but the reality is that most of us have to work within a budget. Having been given a rundown of what the contractor includes in the package and the timetable, look through it closely and see if these suit your requirements. There may be preparations that you feel are not critical in your case and may be skipped to keep the cost down. Or you may want the timetable reassessed to save on time and money. Haggling is a good thing to do, and a professional contractor should be able to accommodate this to make sure both of you end up with a package that is customized to suit your requirements and budget. The lowest bid may not be the best choice, nor is the highest. It is still best to go for one that is skilled and experienced, conscious of safety issues, and is properly licensed and insured – at a price that you can manage. There really isn't a lot of room for error in this project, especially not when you are on a tight budget.
In the end, choosing the right contractor for you is a combination of what you know about each, what you need, what they can offer and for how much after looking into at least three bids from probably a number of them recommended by friends and relatives. The important thing is to make sure you pick one whom you feel comfortable dealing with.
If you are within Georgia, particularly in Alpharetta, Grayson and Snellville, and in need of a contractor, why not visit us at / and schedule an estimate today.