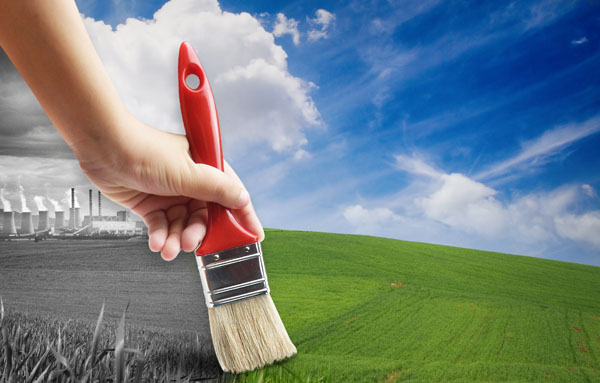 Enjoy organic paint!  Pretty sure you know what we are pushing, engaging our clients to be our active partners in changing the world to a better place.  Being constantly aware of the earth's development, a "low-carbon atmosphere, a smog-less place, harmless products and materials made of nature" is the core of SPPI's greening program.  It is the best legacy that we can pass on to our children.
Many were said about "Green," yet, we persist to campaign for an eco-friendly surroundings.  Why? We have to upkeep the symmetry between livings things for a balanced eco-system.  This popular idiomatic expression, "I will scratch your back, you scratch mine…" illustrates the symbiotic relationship between men and nature.   Our eco-system should bring us back into our harmonious association with the trees, atmosphere, the water, the weather and everything that is on the earth's surface.
Stricter rules have been imposed to upkeep the nature.  Gradually, green products and services emerge in the market and even practice at home.  At this point, you can now swaddle your family with products that are safer.  Studies show that even offices have increased its productivity and kept their employees satisfied with the "green" workplace.  The SPPI should know, it is now using green products as a general rule, its paints, in particular.  And it has "Green" experts and professionals in house painting to give you an utmost personalized care.
Below are examples of our Green paint offers to enlighten you.
Duration Home Interior Acrylic Latex Paint variety is a "green product" that is ideal for high traffic areas like kitchens and hallways, when stained can be wiped clean with water. It ensures that your home's beauty is long-lasting and easy to maintain.  Matte and Satin finishes are available in a new high hiding accent base, formulated to boost hiding power and deliver truer colors in fewer coats. With Duration Home Flat, there is no need to sacrifice performance for appearance.
The Sherwin Williams' Harmony Interior Acrylic Latex paint is a zero VOC formula that helps promote better indoor air quality and helps reduce common indoor odors so the rooms stay fresher, longer.
Duration Home which is available in flat, matte, satin and semi-gloss finishes features exclusive cross-linking technology that actually repels stains. Plus it is easy to apply, goes on smoothly and is ideal for high-traffic areas of your home.
EcoSelect Interior Latex Paint is an affordable option when budgets are tight and a zero VOC coating is preferred or required.  EcoSelect has good spatter resistance and is great for use on walls and ceilings of wallboard, primed plaster, wood, and masonry.
All Surface Enamel is designed for use on interior and exterior wood, metal, drywall, and other surfaces. This high quality coating provides excellent resistance to weather and sunlight, maintaining its gloss and color. The exceptional durability allows it to be used on doors, trim, windows, and other hard-wear areas.
There are a lot more, make your best choice and we would provide.