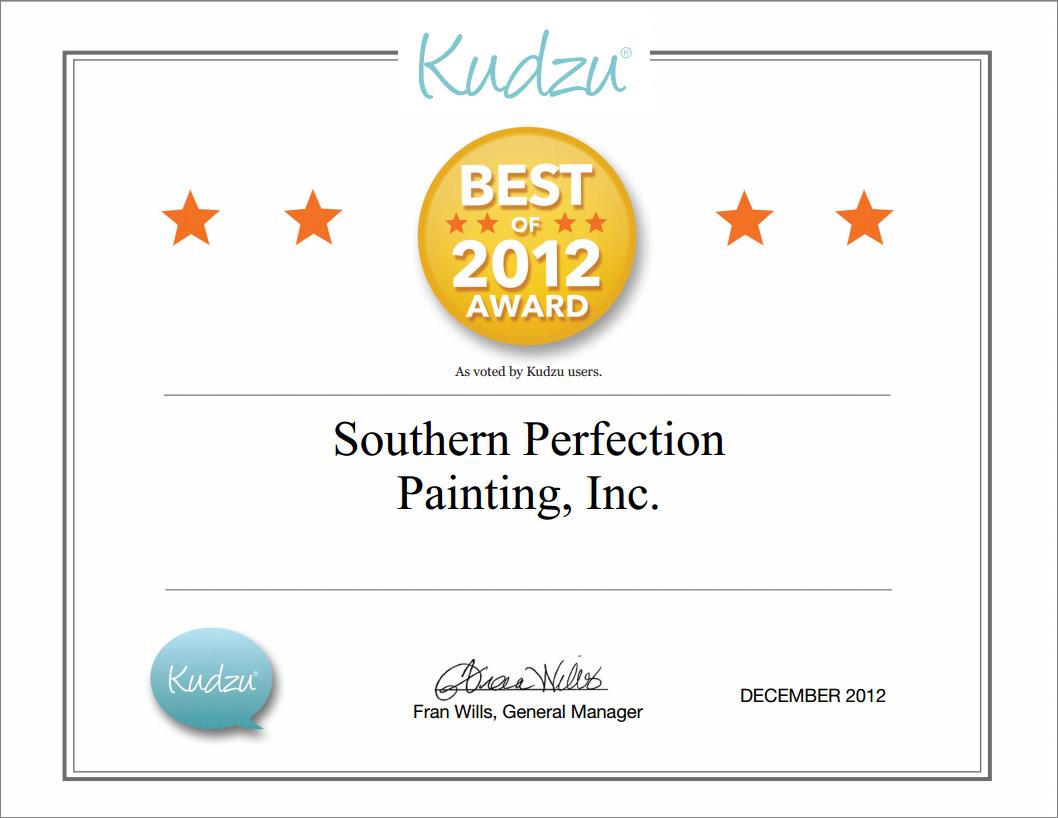 Top Painting Contractor Southern Perfection Painting Inc. Wins Best of 2012
Top painting contractor Southern Perfection Painting Inc. wins "Best of the Best" Award for Metro Atlanta Residential Painting Industry on Kudzu.com for 2012. Southern Perfection Painting Inc. received the most number of votes in this category from thousands of Kudzu.com users.
Indeed, the figures are evident why SPPI is considered the number one painting contractor. There are more than 5 million businesses vying to take their lead in the category they belong to, and over 30 service categories. Kudzu.com awarded SPPI as the Best of the Best 2012 Metro Atlanta Residential Painting Industry on Kudzu.com.
Kudzu.com noted that "SPPI provides Commercial & Residential Painting services to local clients in a professional matter. Additionally, their pricing is among the best in the industry." Moreover, thousands of Kudzu.com users, pegged as consumers, acknowledge SPPI residential painters with the "superior service" they provide. These satisfied users unanimously agree that SPPI is their top painting contractor. They are even vocal about this in the reviews they submit at Kudzu.com, one of which is stated below:
"Really great job
We had both the inside and the outside of our home painted. We were very satisfied with the price, quality, and service. Anything that we had an issue with, they immediately remedied. We definitely recommend Southern Perfection, and we will call them again whenever we need painting done."
Kudzu.com is owned by Cox Search Inc. which a subsidiary of Cox Enterprises – the leading communications, media and automotive services company. Kudzu.com is geared towards helping consumers find and choose the best local service provider they need. These consumers are then able to evaluate and rate the service providers – the primary factor how the winners are identified.
All the category winners, including SPPI, have the Kudzu.com Best 2012 badge stamped on their business listing at Kudzu.com.
For best result and worry-free painting job, let the experts of SPPI do the work for you. SPPI specializes in residential and commercial painting for over 29 years.