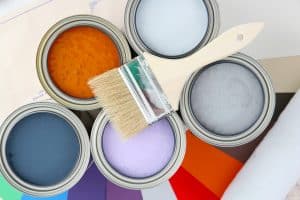 Residential painting with elastomeric paints or coats is dependent on the kind of exterior wall surface. A professional and reliable painting contractor would likely recommend this kind of paint after a thorough check on the areas to be painted. Moreover, assigning exterior house painters with complete knowledge of what the job is will keep the house in good condition yet less maintained.
Other than the aforementioned benefit, there are additional and special characteristics of elastomeric paints in residential painting. These are what make this particular paint or coat a bit expensive. It is distinctive from other paint varieties as well – particularly when applied to exterior walls. In fact, all these are even noteworthy as home painting ideas, such as the following:
The consistency is thicker which enable the surfaces to endure extreme weather conditions
This caulks cracked surface areas resulting in smooth finishes
It can be painted directly on the walls
Opts out the priming stage
Provides waterproof protection thereby does not allow water to seep through the wall
Paint colors are not limited
Undoubtedly, elastomeric paints or coats are the most practical means of obtaining exterior surface walls that will last long. There is no risk at all in considering the use of this kind of paint in residential painting. Also; if you are in the vicinity of Atlanta, let Southern Perfection Painting Inc. further discuss with you exterior home painting ideas. SPPI can provide everything you need to know – such as house paint colors and other paint variants.
As a painting contractor, Southern Perfection Painting Inc. has a pool of qualified interior and exterior house painters who can certainly accomplish any painting job – according to your preferences and expectations. The quality of their workmanship is guaranteed to satisfy all their clients. This is the assurance of SPPI in all their commercial and residential painting job contracts.
SPPI
Average rating:
0 reviews