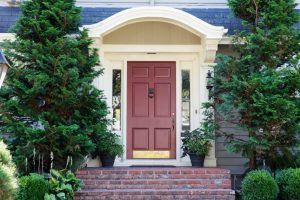 The Focal Point
What is usually the focal point in exterior residential painting? According to exterior house painters, the front door is what calls the attention of the viewer or visitor. The front door is also what often gives people the basis of their first impression with regard to the house.
Come to think of it – a number of home painting ideas about front doors discuss paint colors and accessories. This is because these are what catches the eyes of people passing by or visiting your house. In fact, homeowners are often surprised at their local painting contractor who even assists them conceptualize how their front door should be finished and look like.
 Consider the following:
Painting the front door with bright color against the neutral exterior residential painting wall color will indeed make the door a stand out.
Homeowners tend to personalize the front door – not with their names on it, but through their preferences of color and design.
Door knobs, handles, numbers and letters form part of the accessories.
Careful selection of door accessories that match and fully accentuate the front door entail creativity.
The color of these accessories contrast yet complement with the color of the door.
From the above-mentioned, most homeowners want an abode that welcomes people – all with good intention. If you are in the vicinity of Atlanta and need more information about front doors and house painting, let Southern Perfection Painting Inc. further discuss with you exterior home painting ideas. SPPI can provide everything you need to know – from the selection of paint colors and door accessories to the proper maintenance of paint finishes.
What is more? As a painting contractor, Southern Perfection Painting Inc. has a pool of qualified interior and exterior house painters who can certainly accomplish any painting job – according to your preferences and expectations. The quality of their workmanship is guaranteed to satisfy all their clients. This is the assurance of SPPI in all their commercial and residential painting job contracts.