Interior Color Should Blend With The Natural Light
Most residential painting techniques are simple with amazing results. Choosing eco-friendly paint colors is a step towards the completion of the interior. Blending these colors with natural light is another aspect.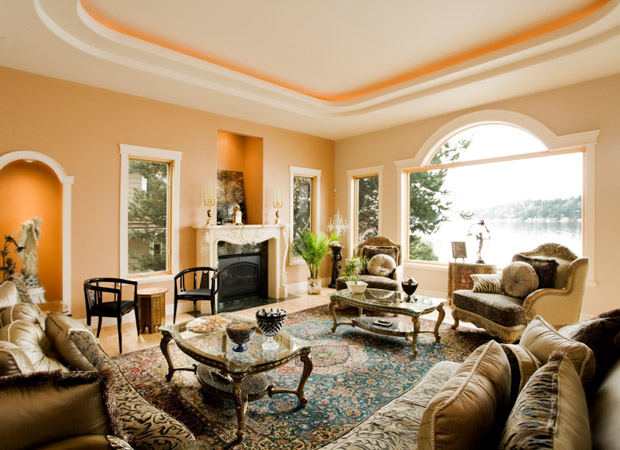 The interior color should blend with the natural light. This is vital as 1 of the residential painting techniques. Interior painters know that the colors on surface walls appear differently with natural light. The effect can strike the balance between the paint color and light. If residential painting techniques are not properly considered, the upshot can be an eye sore.
Any professional and experienced painting contractor can guide homeowners. They, too, are familiar with different residential painting techniques. The harmony of natural light with paint colors is primarily based on the orientation of light (or where the light originates) as follows:
Natural light varies at different times of the day with a specific silhouette pattern.
From the north, bluish or greyish light color is produced by this natural light. This blends well with hues of coral, cream, pale pink or light orange.
From the east, bright light comes from this direction. This is best matched with light colors of pink, white and yellow.
From the west, light is subdued at the latter part of the day. Cool colors of green, warm colors of yellow and their complementary colors are ideal.
From the south, natural light from this path is the strongest. Color shades of blue, green and lavender are great as these intensify to a monochromatic earth tone effect.
There are more residential painting techniques. If you are in the vicinity of metro Atlanta GA, you can get in touch with SPPI SPPI can be your reliable local painting contractor. They have a pool of trained exterior and interior painters. They can give you answers to your queries on other residential painting techniques – or anything related to their job.
SPPI guarantees quality in workmanship. This is your assurance of satisfaction. Paint colors reflect an awesome spectrum with natural light. This is methodically done. SPPI sees to it that residential painting techniques are properly accomplished.