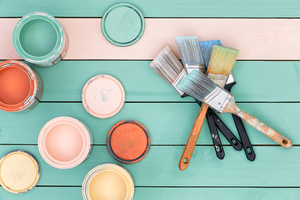 The Notable Trend with Pastel Paint Colors
Residential painting with pastel colors is a challenging yet exciting task to interior painters. To many, anything in pastel paint colors is often associated with a touch of femininity. This is how these colors are labelled, but the trend in home painting ideas nowadays provides a broader perspective on this.
Pastels are no longer confined to the usual colors known as light blue or pale pink. There are already a number of residential home painting color variants categorized for this kind of shade. What is remarkable with these varieties is the mix and match of colors with the expertise of any local painting contractor.
The following details on a number of pastel colors as the result of mix and match:
Blue Gray and light Gray, apparently from Blue and Gray colors, are the standard trend (which tend to be identified as masculine in nature).
Lighter shades of Pink and Yellow are complementary hues as pastel although of the same tones as warm colors.
Shades of cool colors such as Mint Green are fantastic substitutes to the typical Beige and Cream colors on surface walls that set the ambiance of the room.
What is more? Homeowners dream not only owning a house, but desire an abode as delighting, relaxing, stimulating and uplifting to the spirit as it can possibly be. One better way of achieving this is a partnership with Southern Perfection Painting Inc. if the property is located in the vicinity of Atlanta GA. SPPI can further discuss with you additional home painting ideas about pastel colors – as well as provide you with everything you need to know from the selection of paint colors to the proper maintenance of the finishes.
As a painting contractor, Southern Perfection Painting Inc. has a pool of qualified exterior and interior painters who can definitely accomplish any painting job according to your preferences and expectations. The quality of their workmanship is guaranteed to satisfy all their clients – whether as business owners or as homeowners. This is the assurance of SPPI in all their commercial contracts as well as their residential painting projects.