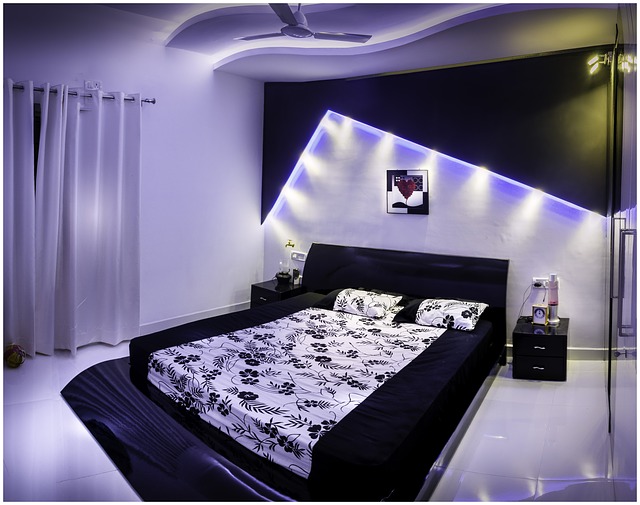 Traditionally, many people prefer bright colors in their homes, as White and bright colored rooms usually give an illusion of bigger space and bring feelings of comfort.  However, according to the latest researches, a great part of contemporary designs involve dark motives, impressions and colors. Open your mind to these ideas as you read this article through.  The tips below will give you ideas on how to successfully use dark colors for your interior.
A dark wall as a focal point for your room
Dark colors are now making a statement and is no longer associated with feelings of sadness, weirdness, negativity and depression.  As far as the walls are concerned, be bold to mix and experiment with Black and make one of the walls (that is Black) the focal point of your room.  In this dark-colored wall, you can put up modern ornaments and decorate it to your heart's content. Pure Black walls are not very common in living rooms and bedrooms.  Just add your favorite ornaments and wall decors onto the Black wall, and you can turn you room a tad cozier and welcoming.
Think of adding diverse furniture and accessories
When interior design is concerned, furniture and accessories play important role. You can use dark colors to contrast against bright walls. While most people hesitate about using dark colors for their walls, they show more willingness to use dark tones for furniture and other room accessories. Black armchairs for your living room will ideally fit the brighter colours that you have picked for the walls. Use small White tables to create interesting contrast against dark Grey or Brown walls, and instantly create a more modern and inviting environment.
Myth: Dark Colors are Depressing
Many people avoid dark colors for their home interior, simply because they consider them too depressing and unappealing.   If bright colors inspire you less, conventional interior styles are not for you.  Read more about about the latest trends in dark colors and be bold in experimenting with various color mixes. Indeed, light colors make rooms look bigger, but you don't necessarily adhere to this option.   You can mix and match dark-colored carpets and home accents to change the ambiance in your home. Dark home-made frames and other wall decorations create a soothing mood and shows an innovative look for the room.
Using dark colors in residential painting is a bold move when designing or redecorating your home interiors. If you feel lost with the colors, complements, designs and decorations by yourself, you can always turn to professional home designers like SoPerfectPaint and Decorators in Action, who will give you valuable advice about the best options that you have within the dark colors. We admit that using dark colors is a bit of a challenge in home improvements and design, however, if you feel like using them, it is worth a big try.  If you are longing for a modern look, you have to really resort to using darker tones.