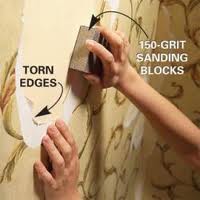 Wallpaper Removal
In residential painting, there are a number of steps that should be done on the wall to be the best approach. Painting over wallpaper is considered a good alternative particularly when we want to give our home a new look. This means that there is no need to remove the wallpaper. We save time, money and effort for doing such. However, it is not that easy as it seems to be.
These steps are as follows:
Check the wallpaper for bubbles, loose seams, peeling edges and torn portions.
Mark these spots with a chalk. Note that it is not advisable to use markers since the ink might bleed through while painting over wallpaper.
Make small vertical and horizontal cuts at the center of each area with bubble using a sharp knife. Open the cut portion and glue.
Secure the other spots that you have marked with chalk – those that tend to peel off – by applying glue.
Sand the exposed wall with a hand sander. A finely grit sandpaper can also be used. Either of these will smooth out the surface to be painted.
If there are portions of the wall with depressions or gouges, apply joint compound to these areas. See to it that in doing so, the surfaces are even with the other areas.
Coat the wall with oil-based primer. Allow this to dry overnight.
A second coating is recommended. Using a tinted primer will bring out better result for this kind of residential painting. Make sure that the tint is one to two shades lighter than the paint color you have chosen.
Having diligently done all the steps mentioned above, you are now ready painting over wallpaper.
For best result and worry-free painting job, let the experts of SPPI do the work for you. SPPI specializes in commercial and residential painting.