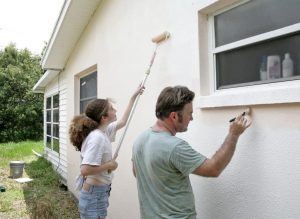 Home Painting Ideas with the Use of Primers
Using primers in residential painting is an important aspect towards a flawless completion of the project. Primer paints generally allow the exterior paint colors to adhere to the surface wall. These are always required on unpainted surfaces.
On the standpoint of professional exterior house painters, repainting walls have to be coated with primer paints as well. These painters are even willing to share home painting ideas that will maximize the application of primer paints. An upshot of this will then optimize the coverage of exterior color paints.
A number of these home improvement ideas are as follows:
A coat of primer paint will undoubtedly always be a cost-effective measure in any painting project
Although the standard primer paints come in plain white in color, these are ideal to coat exterior wall surfaces that will be followed by light color paints
Tinting the primer similar to the paint color to be used is best recommended on surfaces where darker exterior color paints will be applied next
Any local painting contractor provides tint on primers for free
 From the above-mentioned, the most practical means of obtaining painted exterior surface walls that will last long is to prime these first. What is more? If you are in the vicinity of Atlanta, let Southern Perfection Painting Inc. further discuss with you exterior home painting ideas on primer paints. SPPI can provide everything you need to know – such as house paint colors and the possibility of tinting the primer (at no additional cost).
As a painting contractor, Southern Perfection Painting Inc. has a pool of qualified interior and exterior house painters who can certainly accomplish any painting job – according to your preferences and expectations. The quality of their workmanship is guaranteed to satisfy all their clients. This is the assurance of SPPI in all their commercial and residential painting job contracts.