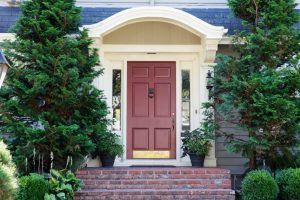 Home Painting Ideas Highlighting Entrance Doors
Following the 3-color scheme in residential painting, homeowners can gather several home painting ideas from a variety of resources. However, the best option will be to talk with a painting contractor about the appropriate mix and match of the exterior paint colors. Professional exterior house painters can also pitch in their opinions.
More often than not, the color of the accents is likely the last to be considered from among the choices. This is the third color in the 3-color scheme, yet makes the house striking. The color of the front door provides a glimpse on the kind of residents is. So they say.
Here are valuable residential painting guidelines in choosing the color for your main door:
Black, green and red are considered the typical colors of door
A Caribbean hue becomes a standout on neutral surface colors
An autumnal shaded door is a perfect combination to white trim and brick surface that resembles the color of fallen leaves
Bright orange lightens up a surface designed with shingles
Burgundy wine gives a sophisticated look when matched to a green trim
Green in mid-tone shade is distinctive in its kind
Lemon shade is not inferior on a surface in bright blue
Neon colors are cool to the eyes and great for 3-color scheme mix and match
Reddish brown provides a fresh look to a brick stoop
What about teal, white and deep red in the 3-color scheme? Will this mix and match create an impression to your house? Let Southern Perfection Painting Inc. discuss with you amazing home painting ideas. SPPI also provides everything you need to know about house paint colors. As a painting contractor, SPPI has a pool of qualified interior and exterior house painters who can certainly accomplish any painting job – according to your preference and expectation.
In addition, Southern Perfection Painting Inc. quotes a very reasonable all-in residential painting package. They also do commercial painting, and in the same manner with residential painting; the quality of their workmanship is guaranteed to make your house a class of its own.
SPPI
Average rating:
0 reviews