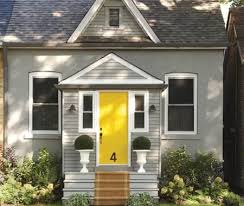 Exterior Paint Colors and the House Framework
Residential painting mix-match is the latest trend in home painting ideas. This is not only applicable to new houses but in re-modelling homes as well. In fact; because of this, most homeowners eventually maximize their purpose in hiring the services of a painting contractor who provides them with experienced exterior house painters. This mix-match is not merely on paint colors. This also involves the architectural framework design of the house.
How do the homeowners plan and proceed with this residential painting mix-match? Here are some ideas to consider in matching modern house frameworks and appropriate colors in exterior painting:
The framework of the house consists of the roof, masonry and the architectural accents such as doors, trims and windows.
Nowadays, the architectural framework designs come in a variety of geometric and linear shapes
Linear framework designs look best with colors that are not too bold
Neutral or soft tone colors create the best visual effect on any architectural framework design
Hazelnut cream or gray-brown are two of the most preferred soft tone colors
Specific shapes of the framework can be highlighted with a couple of shades from a soft tone or with two complementing tones
Painting the door with a color that contrasts the soft tone used on the other frameworks perks up the exterior
Let Southern Perfection Painting Inc. discuss with you more amazing home painting ideas. SPPI also provides everything you need to know about house paint colors in relation to different residential architectural framework designs.
As a house painter, Southern Perfection Painting Inc. has a pool of qualified interior and exterior house painters who can certainly accomplish any painting job – according to your preferences and expectations. They also do commercial painting, and in the same manner with residential painting; the quality of their workmanship is guaranteed to satisfy all their clients.
SPPI
Average rating:
0 reviews