Brush Or Roller?
There are different kinds of residential painting equipment used by interior painters. These vary according to the kind of paint product and the area of the surface walls to be covered. The best result is likewise dependent primarily on the kind of paint brush and roller – all of which have to be properly determined.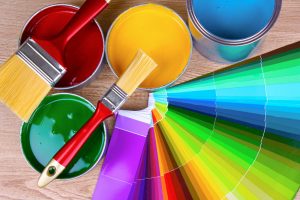 The local painting contractor selected by the homeowners has to be knowledgeable and up-to-date in this field. The painting services offered reveal a lot on the said 2 factors. These even include the following aspects of residential painting equipment:
The bristles of a paint brush is either natural of synthetic
The natural bristles are animal hair while synthetic bristles are nylon or polyester
Natural bristles are strongly recommended for oil-based paints
Synthetic bristles are typically used for acrylic, latex or water-based paints
The paint roller, another residential painting equipment, made of foam works well to finish the wall surface
A gallon of paint covers around 250-300 square feet that is spread evenly – neither thick nor thin
What every homeowner essentially dreams is a relaxing dwelling place. A dream that becomes a reality is indeed a delight. What more can be rewarding than having a home that is stimulating and uplifting to the spirit?
Attaining this dream home is a process; hence, a partnership with SPPI eases this. If you are in the vicinity of Atlanta GA, you can rely on Southern Perfection Painting Inc. Everything homeowners need to know will be tackled at SPPI. You may inquire about the paint brush variations and other residential painting equipment SPPI uses. SPPI can further discuss with you several painting services as well.
As a painting contractor, Southern Perfection Painting Inc. has a pool of competent and experienced exterior and interior painters. Whatever preferences in painting job you cite can definitely be completed by these painters – closest to or precisely what you expect. The quality of their workmanship is guaranteed to satisfy all their clients. The SPPI customer service is fair to all, business owners and homeowners alike. This is the assurance of Southern Perfection Painting Inc. – which is evident with the use of premier commercial or residential painting equipment.