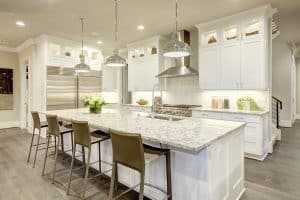 An important aspect in residential painting is making the design look as natural as it can possibly be and yet have an elegant appeal. This is always the challenge faced by professional interior painters. They see to it that they have not missed a single detail of the design in every area of the house entrusted to them by their local painting contractor.
Moreover, modern houses have a kitchen styled with paint colors used in various combinations. The outcome of these designs demonstrates that residential painting for this specific place can likewise evolve. What is remarkable for this trend is the use of colors other than white.
The following are a number of home painting ideas related to the above-mentioned:
Paint the walls with selected colors, hues and tones so as to visualize the possible combinations
Use bold and bright colors like blue, green and red as undertones, and then mix these with natural colors for that sophisticated effect
Make every part of the kitchen, including cabinets, countertops, floors, tiles and walls; in color – either as manufacturer designed or as painted
Apply a different color to wall trims, that is, other than white
Make sure that the all colors in the kitchen match, or blend, with the colors used in the adjoining areas
Every homeowner, undoubtedly, desires an abode as relaxing and as stimulating it can possibly be delighting and uplifting to the spirit. If you are in the vicinity of Atlanta and you need more information about modern kitchen designs, let Southern Perfection Painting Inc. further discuss with you additional home painting ideas. SPPI can provide everything you need to know – from the selection of paint colors to the proper maintenance of the finishes.
As a painting contractor, Southern Perfection Painting Inc. has a pool of qualified exterior and interior painters who can definitely accomplish any painting job according to your preferences and expectations. The quality of their workmanship is guaranteed to satisfy all their clients – whether as business owners or as homeowners. This is the assurance of SPPI in all their commercial and residential painting job contracts.