Simple But One Of  A Kind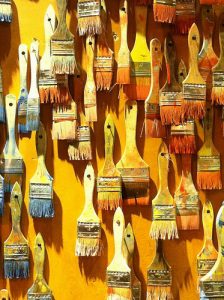 Residential painting design has a new trend nowadays. This is the ombre effect. This is the outcome of applying paint colors of different shades or tints from a particular paint color. As simple as the effect may seem, this is one kind of painting services that needs the expertise of exterior or interior painters.
There are various ways on how this particular residential painting design is perceived by homeowners. Whatever these are, it is noteworthy that there is a distinctive pattern that identifies this said effect. Here are the basic details:
The ombre effect is primarily the use of 3 shades or tints from a particular color
A monochromatic theme on surface walls is usually associated to this effect
The lightest shade or tint is applied to the top portion of the surface wall
The middle portion takes the next tint, while the darkest shade or tint is painted at the bottom of the wall
Any cool or warm color can be selected as the main (or particular) color
In light of the aforementioned, homeowners desire a delightful and relaxing dwelling place. They dream of owning a house that is a home as stimulating and uplifting to the spirit as it can possibly be. One better way of achieving this is a partnership with Southern Perfection Painting Inc. This is probable if the property is located in the vicinity of Atlanta GA. SPPI can further discuss with you information on their painting services.
What is more? Everything homeowners need to know will be tackled at SPPI. You may inquire about the ombre effect as well as selection and combination of paint colors to the proper maintenance of the finishes.
As a painting contractor, Southern Perfection Painting Inc. has a pool of qualified exterior and interior painters. These painters can definitely do any painting job – according to your preferences and expectations. The quality of their workmanship is guaranteed to satisfy all their clients. Their customer service is fair to all, business owners and homeowners alike. This is the assurance of SPPI in all their contracts – being mindful of the residential painting design you prefer.