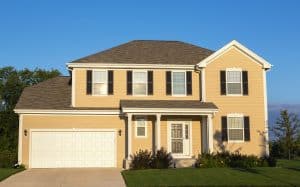 Cool Summer in Homes with White-Painted Roofs
A number of residential painters voice out that rooftops are the primary factor why temperature rises inside houses, particularly during summer. We tend not to believe this, more so disregard such statement. This is because we are aware that during summer, the climate is indeed hot and we expect it to be that way. However, exterior house painters insist that painting residential house roofs in white will make summer literally cool in our homes – without using any alternative cooling system.
Here are the basic facts:
First of all, low VOC white and light colored paints applied to roofs reflect heat.
White roofs do not absorb heat, thus, minimizing energy consumption.
Energy costs for residences with white roofs are reduced by as much as 20% during summer.
Eco-friendly white paints on roof tops do not trigger in the negative effects of climate change.
White-painted roof tops offset the warming effect due to emission of greenhouse gases.
Summing all these, white-painted roofs give warmer temperature inside homes.
The details mentioned above are very helpful. Come to think of it… the cost of painting a house roof in white is even affordable. The painting business is a serious endeavor and residential painters should be given a well-deserved painter contractor package worth all the effort and knowledge they relay and share to us. Definitely, these are all gained from their painting contracts. Experience is indeed the best teacher!
Are you contemplating of painting your residential house roof in white? Allow Southern Perfection Painting Inc. to assist you. SPPI has a pool of qualified exterior house painters who can do the work for you – according to your preference. They also quote a reasonable cost of painting a house which includes an all-in painter contractor package.
Furthermore, Southern Perfection Painting Inc. is distinctly recognized in the painting business. This means that you need not think twice. Let SPPI paint your residential roof in white. They guarantee that their residential painters always provide quality in their workmanship.