Can Come In Form Of A Company Or An Individual
Many people have a tough decision to make when it comes down to hiring a professional painter. Most people worry, Are they experienced? Are they licensed? How fast and efficient can they do it? Can I trust them in my house? Well in the following you will read on how to make those worries go away and be confident in the painter you choose.
Of course, you want a painter to do a good job, someone who will give you a top class paint job with excellent service from start to finish and one that you can overlook if you want without much trouble. A painter can come in form of a company or an individual. Before you hire the first painter you find, shop around. Call three or four different companies. Ask them for prices, if they are insured, photos of before and afters of their previous painting jobs. Keep in mind you shouldn't hire a painter based only on prices.
Take the time and interview them. Jot down any questions you may have so you don't forget to ask anything. Talk about what you want and expect from them. Getting everything out in the open when first talking to them is better than remembering when they are in the middle of the job. This could also end up costing you more. Jotting down some notes on a paper so you don't forget can be helpful. If a contractor has a problem with any of this then do not hire them.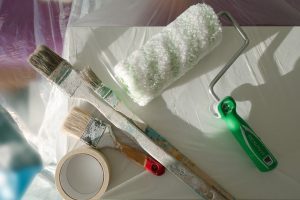 Get a written estimate from each company or individual you seek.  This needs to include but not limited to, what labor is done, the material costs, how many coats of paint and primer, what type of tools and how big the area is that needs to be painted. Ask the painter for their credentials. For example, any memberships they hold and licenses. Check the BBB and your state's Contractor's Licenses Reference Site.
We all know that there are many different brands and types of paint. Never assume that since they are a professional that they will use the better quality of paint and primer. Before starting the work you need to talk to them and ask them what paint they will use and if it is durable. Always ask questions and if you are still unsure then do not hesitate to call your local paint store and ask more questions. You can never be too careful.
Check with your local town/city and see what the laws are. Yes, in some towns/cities you do need a permit for certain paint work. Checking this even before starting, can save you many headaches. Although a professional painter will know if this is needed or not.
Anytime you hire a contractor or company there should be a complete binding contract. Make sure the contract has the contractors/companies: names, all phone numbers, address, license number and the price of the job. You should also obtain a copy of the worker's compensation and liability insurance papers. If they do not have this, don't hire them because if an accident were to occur then it is on you.
To tie it all down, ask questions, plenty of questions. Interview plenty of contractors/companies. Get everything in writing, don't sign the contract until you know it has all of the requirements. Ask for all documentation. And oversee the project.
SPPI
Average rating:
0 reviews