Be Creative and Show Your Intention
House painting the exterior surfaces has a focal point. This is usually the part of the house that calls the attention of people. It is what people often base their impression about the house. It is not the facade where the "wow" expression begins. It is what majority of home painting ideas set the focus – the front door.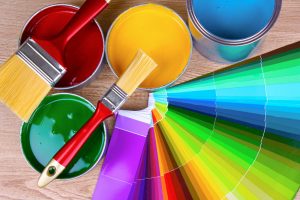 House painting the front door with 1 color is ideal. However, the exterior house painters are aware that the front door is not only on the luster of an eco-friendly paint color. It can also be designed in a lot of ways. This gives the homeowners other options on how the door is finished. Their local painting contractor can assist them conceptualize how it will look.
The Color
The front door stands out by house painting it with a bright color
The bright tone is selected from among the cool colors or warm colors
The eco-friendly paint color should complement the neutral or earth tone of the exterior surface walls
The Design
Most homeowners personalize the front door not with their names on it
A number of homeowners specify their preference on the design that specifically highlights the creativity done on the door
The design can either be an art work
Accessories installed or placed on the door form part of the design
The accessories are the door knobs, door handles, letters, numbers, etc.
The accessories are carefully selected such that these contrast (yet complement) the paint color
Everyone wants to be welcomed in homes. Let the front door show this good intention. SPPI can further discuss with you on this. SPPI does exterior and interior house painting. Share and exchange home painting ideas with their interior and exterior house painters.
If you are in the metropolis of Atlanta GA, choose SPPI as your local painting contractor. SPPI is in the industry for almost 30 years. SPPI can, undoubtedly, provide better options in the ins-and-outs of house painting. Start with the selection a paint color and door accessories to the proper maintenance of your residential (and even commercial) property. SPPI guarantees quality in workmanship in every commercial and house painting they complete.