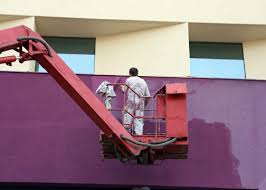 When Exterior Painters Do Facility Maintenance
Commercial painting as part of facility maintenance is often the least in priority and importance. Usually, the time frame given or set in repainting any part of the building is 2 to 3 years. The fact is facility maintenance involving painting services should frequently be done.
Professional exterior painters and local painting contractors keep abreast on the status of the building facility even after the commercial painting contract ends. This is because they have accomplished something that showcases their expertise or a work of their art. Furthermore; these commercial painters believe that exterior, as well as interior, painting in good condition will even be beneficial to the business owners – as follows:
Business transactions or trading happen in buildings
An enticing building appearance heightens business reputation and promotes positive outcome
A facility maintained in good condition is conducive to warm and welcoming atmosphere
Retaining exterior walls that are as good as new all the time creates an impression of comfortable and safe premises
Repainting services disclose repairs and any waterproofing procedures to be done on the walls
What is more? If you are a business owner and are in the vicinity of Atlanta, make a stopover to visit Southern Perfection Painting Inc. You can further discuss with the commercial painters of SPPI any painting job related to painting as part of facility maintenance. These interior and exterior painters are fully trained with the dos and don'ts of any painting job – and a lot more.
Southern Perfection Painting Inc is one of the few local painting contractors that maintain perfection in all their services in spite of the affordable painting estimates they offer. You are assured of superior painting services for the protection of your commercial property. This is what SPPI is known for – the guarantee of quality in workmanship for all residential and commercial painting jobs they undertake.
SPPI
Average rating:
0 reviews