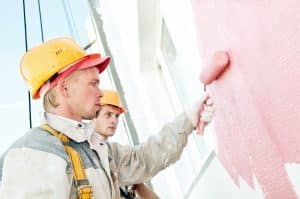 Service in Action
Commercial painting services are often proven satisfactory with the outcome of the work done. The local painting contractors know that whatever services specified in the job contract will be properly completed by their reliable commercial painters. These professional interior and exterior painters are likewise confident they will be able to provide what business owners expect.
The process of accomplishing any commercial painting job is not easy. It takes experts and professionals to get it properly done. Nevertheless, excellence of service in action can already be determined even before the painting job starts. These are basically the equipment and materials contractors provide, for use by painters on the job, as follows:
Protective painter suits such as coverall, all-weather cap, safety goggles and shoes
Reusable masking tapes, drop cloths and rags
Universal bucket opener for paint tin cans
Premium sets of painting supplies – brushes and rollers
Poles that can be extended for paint brushes and rollers
Hammers, screw drivers and power drills
Durable spare paint buckets and recyclable lids
Vacuum sander kit
Tried and tested paint compressor and painter
Adjustable and durable ladders and scaffolds
Reliable planks and work platforms
Motorized lift or vehicle rack
The above mentioned can be a criterion in determining your decision regarding improvement to your commercial property. To begin with, you can check whether or not Southern Perfection Painting Inc. has these equipment and materials. SPPI is one of the few local painting contractors that maintain perfection in all their painting services in spite of the affordable painting estimates they offer.
Also, Southern Perfection Painting Inc. sees to it that their commercial painters are fully trained with the dos and don'ts on their painting jobs. The expertise of these interior and exterior painters is demonstrated as they share their experiences and discuss methods they applied on the various projects they have accomplished. This is what SPPI is known for – the guarantee of quality in workmanship for all residential and commercial painting jobs they undertake.