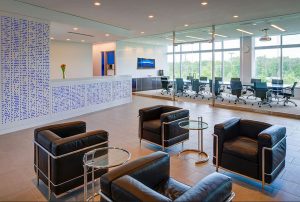 6 Ways Interior Painters Keep Up with the Design
In commercial painting, the interior areas are designed in style. Local painting contractors see to it that the design is according to the function assigned to the area or room. This is part and parcel of the painting services they provide in order to make the space as delightful as it should be.
Professional interior painters tasked for this commercial painting job have their insights, too. They are also keen on how the design complements with the space and function of the specified area. These painters, with all due respect to the designers of the building, are likewise trained on the essentials of designing wall surfaces.
Here are 6 basic elements expert commercial painters take into consideration:
The paint color of the ceiling need not necessarily be white as long as it blends with the surface walls enclosing the area
The selection of artificial light must be carefully selected and tested on its effect to surface wall design and natural light
Wall surface designs must always be attuned with the function relative to the area – whether or not these designs are the current trend
The addition of texture to the surface walls enhances space and makes it look more interesting
Any wall image, personally preferred by the business owner, that complements the surface design makes a striking balance
Furnishings should be minimized by adding only that are appropriate for the purpose of the room or area
What is more? If you are interested to learn more about wall surface designs while in the vicinity of Atlanta, what about planning a stopover to visit Southern Perfection Painting Inc? You can further discuss with the commercial painters of SPPI any job related to their services. These exterior and interior painters are fully trained with the dos and don'ts of any painting job – and a lot more.
Southern Perfection Painting Inc is one of the few local painting contractors that maintain excellence in all their services even with the reasonable painting estimates that they offer. You are assured of superior painting services for the protection of your commercial property, and to your satisfaction. This is the guarantee that SPPI is confident about – the quality in workmanship for all residential and commercial painting jobs they undertake.