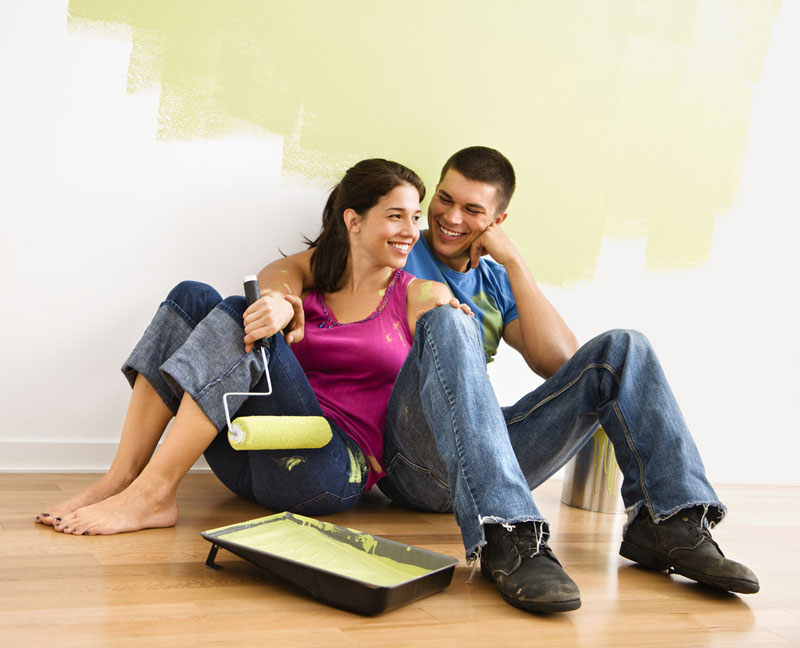 You don't need a lot of furniture and details to create an amazing interior. You can literally display your artistic taste on the walls of your home. The decorative painting techniques will add dimension and texture to the otherwise boring room. Plus they are far easier to pull out than you think. If you feel insecure in your skills, you can hire a building service. There are a variety of options that will give a unique touch to the walls. You can choose between dramatic effect and mild and obtrusive look.
Sponging
If you are a beginner in DIY painting, sponging is the perfect starting point.  Start with a solid base coat. Then apply glaze with sea sponge in different shade over the primary color. In this way you will achieve the particular textured finish. If you want to enhance the effect, add a third color. It is important to use glaze colors that are darker than the base in order to create contrast. It will make your wall look bold and breath – taking. That is not even the best part. The sponging style can help   you hide small damages on the surface.
Stenciling
Spice up the plain and boring wall, with a technique that even an amateur can do. This decorative  painting incorporates color and pattern, blending them beautifully to create a stunning result.  Visit your local store where you can find stencils in different designs and sizes. They are great for children's rooms or nursery rooms because you can easily achieve themed design. You will simply tape the stencils on the wall and paint the open section with your color of preference.
Faux Bois
Faux Bois derives from French and literally means "false wood." The effect imitates the wood grain, creating elegant and natural look. This painting technique brings back to life an old trend. With a vibrant or pastel color like mint, you can achieve a fashionable and original design. Faux Bois is a stylish solution for your living room. Wood grain rocker and graining comb are vital for this effect. Put the glaze and drag the too through it while gradually rolling it. If there is an excess paint, remove it with paper towel. A little tip is to change the direction when you proceed with the next panel.  Although, this technique is not difficult on theory, without this essential tool you cannot go very far.   In this case you can turn to expert builders that are experienced in painting and decorating.
Gingham
This sweet and cheerful pattern will fit ideally in your kitchen or an up – beat bedroom. After applying the glaze, start making vertical stripes with the stripe comb. Try to be as firm as possible, so the stripes stay straight. When you are finished with the wall, you should apply horizontal lines over the vertical ones. Begin from the top, while avoiding the finished surface.  Keep in mind that these methods look very effective, but they can quickly turn into a disaster if you are not at least a little bit knowledgeable about painting and decorating. A professional building team will save a lot of drama and regrets.
This article is contributed by Wandsworth building services – experienced in painting and decorating in UK.
We welcome guest bloggers and article contributions. Please read our guidelines for guest posting.