When it comes to colors, designers seem to disagree on many issues. You probably heard that beige is boring, monochromatic colors can be pretty cold and unwelcoming and white makes a room appear larger. There are lots of myths, though. If you found out that some of the things you heard about color schemes and interior design aren't quite true, now is time to fix them. Check out how you can correct some of the most common interior design color myths.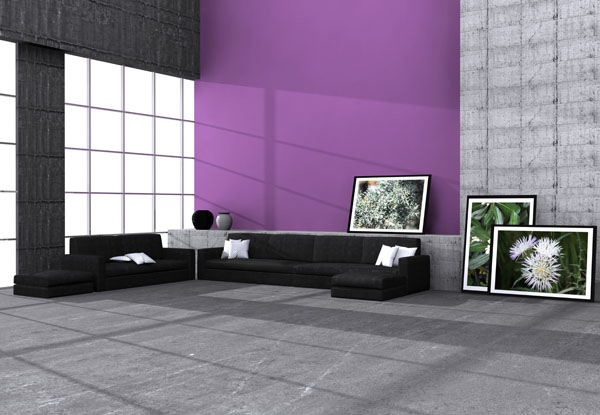 Dark Colors Equal Depressing
While it is true that darkness generally creates a somewhat depressing atmosphere, it does not necessarily have to be that way. Do not be afraid to use dark colors in your home. In fact if you know how to combine them, you will create a great atmosphere. To avoid the so called "cave effect", just make sure you utilize dark colors in rooms where lots of natural light comes in. In other words, you need plenty of windows. Keep in mind that you have to create a balance between light and dark colors.
If you have already made a mistake by painting a small, poor-lit room using dark colors, here is how to correct it. Find a way to provide more light into the room by adding transparent curtains or installing blinds. If there is not much you can do about your windows, attach a few mirrors to the walls and place bright carpets and furniture to make up for the lack of light.
Diverse Colors Add Character and a Touch of Individuality
Not quite true. Unless you want people to confuse your house with the circus, it is not a wise idea to paint every area different colors. Ideally, you will stick with up to three different colors, whereas the rest has to be different shades of the same color. If you want the rooms to express individuality, it should have nothing to do with dramatic changes. Instead of making your home look like a huge patchwork, you need to make the colors flow with each other in every part of your residence.
A White Ceiling Opens up the Space
Okay, white can really help open up a room but it does not mean you should paint your ceilings white. In fact, choosing a different color will differentiate your ceiling from the rest of the room and attract visitors' attention. If you want to have an accent area in a room, let your ceiling be the canvas. There are many ways in which you can create the feeling of a larger room just by painting the ceiling. You might want to consult with a professional on the color scheme to use. The results will be worth it.
Monochromatic Colors Cannot Create a Cozy Feel
It is a common misconception that monochromatic colors cannot create a cozy feel. Even though the combination of white and black can often feel cold and uncomfortable, certain patterns and schemes can open up the space, making it warm and inviting. What you should do to balance the monochromatic colors is to add neutrals. For example, if your walls are dark, use bright furniture and carpeting. Choose gray or tan. Combine neutrals with black and white. Also, make sure the room gets enough light. Otherwise, it may really start to feel a little depressing. It may be difficult to relax in a color blocked room, so make sure you use colors wisely.
Remember that it is very important that you like your home interior, no matter what color schemes and patterns you use. Whether these myths are true or not, it doesn't matter as long as you feel comfortable in your home and you enjoy every second spent there. Also, keep in mind that regardless of the design you choose, it is essential that it is easy to clean. Take into consideration all these factors before you decide to make some changes to your home interior.
The article is kindly contributed by Bayswater RenovationMates. For For guest posts and article contributions, please visit this page: https://soperfectpaint.com/credits/