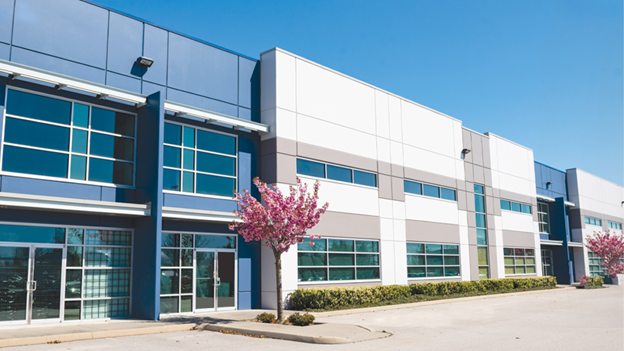 Embarking on a commercial exterior painting project can be an exciting endeavor. However, as much as it can be exciting, it can also be challenging.
It is important to note that two essential keys to a successful commercial exterior painting project lie in these two points below:
Selecting the right color palette
Finding a skilled contractor who can bring the color and your vision to life.
A smooth contractor-led exterior painting project involves more than just hiring someone to wield a paintbrush; it requires careful planning, effective communication, and a proactive approach. Therefore, when it's time to paint the exterior of your commercial building, understanding the essential aspects of managing a painting project can help ensure a seamless experience from start to finish.
In this article, we will highlight the top five recommendations for having a smooth contractor-led painting project.
Top 5 suggestions for having a smooth Contractor led painting project
Whether you're repainting a one section of your office exterior, renovating or newly painting the entire office building, these 5 top suggestions will serve as your roadmap for having a successful contractor-led exterior painting project.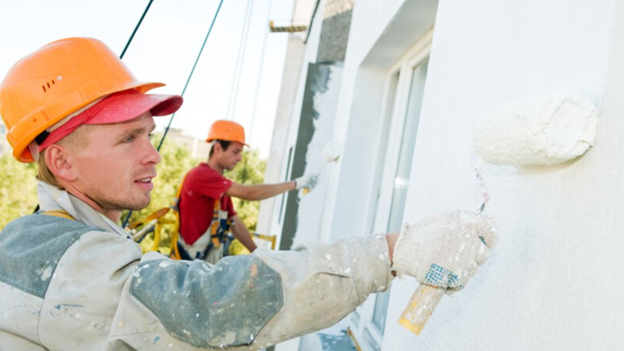 1. Ask for recommendations and research.
The first step in having a successful contractor-led painting project is to ask for recommendations. Obtaining feedback from someone who has previously worked with them is often beneficial. This gives you a better knowledge of their work method and dependability.
Also, take the time to research exterior painting contractors in your area and read customer reviews. Look for paint contractors who specialize in the type of commercial exterior painting you require and have a proven track record of delivering quality work.
Even if you don't choose someone based on a referral, thoroughly vetting potential exterior paint contractors ensures you choose a professional who meets your expectations.
2. Make a plan
To avoid misunderstandings and ensure a smooth workflow, make a plan, clearly define your project expectations, and communicate them to your contractor. Discussing the project with the contractor ensures everything is in order.
Also, discuss the timeframe, budget, colors, finishes, scope of work, and any other special requests you may have. Most importantly, having everything in written form, such as the cost estimates, materials needed and used, and project timelines, ensures there are no later misunderstandings.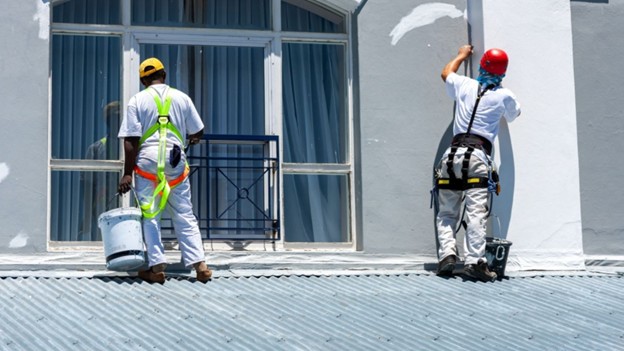 3. Prepare the area
This suggestion is essential yet often overlooked. Prepping for the exterior is key to the project's success. Thoroughly inspect the surfaces for any signs of damage or peeling paint. Before the painting commences, ensure these issues are addressed, such as patching cracks, cleaning dirt and grime, and replacing wood (if necessary).
Addressing these issues ensure that the new paint adheres properly, lasts longer, and that the painting is completed quickly.
4. Regular reporting
Reporting is a crucial aspect when aiming for a seamless commercial exterior painting experience. By incorporating a regular mode of communication, you establish a clear understanding that fosters transparency and accountability. Requesting daily or weekly project updates ensures that you stay informed about the progress and any potential challenges. Having a documented record of this initial phase allows you to track the project's evolution and ensures that it aligns with your expectations. Additionally, staying informed about the chosen colors and their corresponding formulas enables you to have a comprehensive understanding of the materials being used.
5. Inspect the work regularly.
To ensure a smooth exterior commercial painting project, it is essential to inspect the work daily. Check out for missed spots, drips, and uneven paint application. Point out problems while the team is still there so mistakes can be corrected early. Your daily supervision will aid in detecting difficulties and ensuring a high-quality end product.
Conclusion
Embarking on a contactor-led painting project for the office exterior is bound to make all the difference in enhancing its overall appeal. Following the top 5 suggestions, you can have a smooth, stress-free, contractor-led painting project.
With SPPI, be assured of getting the best contractor to paint the exterior of your commercial building.
Call us today via 770.985.3075
Send a message via estimates@soperfectpaint.com.
Get a free estimate online
You can also connect with us on social media through Twitter, facebook, instagram or pinterest.
SPPI
Average rating:
0 reviews