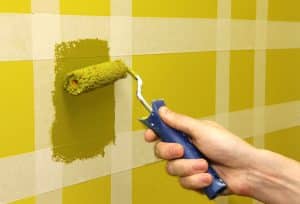 Check out the Trend
Residential painting ideas bring in awesome effects if properly done. More often than not, homeowners hire a reliable local painting contractor who will manage and take charge on what needs to be accomplished. They are confident that whatever tasks and ideas they prefer will be accurately and successfully completed.
Moving on, the latest trend in residential painting of surface walls is not merely on the appropriate choice of paint colors. Professional interior painters are also up to date in creating patterns that will perk up colors as well as enhance the design and style of the interior walls. These painters are very particular with every pattern detail – which they consider a work of art – as follows:
Geometric shapes: Various figures of circles, squares and triangles are dispersed over the walls in alternating cool or warm colors.
Horizontal or vertical stripes: Be it in thick or thin lines, these patterns call attention for its simplicity.
Polka dots: This modern design is not a common choice, yet  pink or grey dots provide a calm ambiance in the room.
Stencils: These are detailed and repeating designs of nature that make up a complex outlook on the walls.
V-shapes or chevrons: These are simple patterns that can be artistically designed with warm hues and tones, or even daring contrasting colors.
What is more? Homeowners dream not only owning a house, but desire an abode as delighting, relaxing, stimulating and uplifting to the spirit as it can possibly be. One better way of achieving this is a partnership with Southern Perfection Painting Inc. if the property is located in the vicinity of Atlanta GA. SPPI can further discuss with you additional home painting ideas as well as provide you with everything you need to know from the selection of paint colors and wall designs to the proper maintenance of the finishes.
As a painting contractor, Southern Perfection Painting Inc. has a pool of qualified exterior and interior painters who can definitely accomplish any painting job according to your preferences and expectations. The quality of their workmanship is guaranteed to satisfy all their clients – whether as business owners or as homeowners. This is the assurance of SPPI in all their commercial contracts as well as their residential home painting projects.