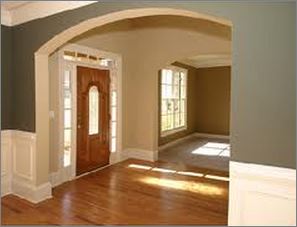 Harmony of Paint Colors
The interior color used in residential painting plays an important part on the effect of natural light. A number of homeowners are very particular about the way paint colors and natural light blend. Some become aware of this as they go through home painting ideas on how natural light appears as it is even with the colors used on surface walls.
Professional interior painters and their respective painting contractor know well that the lighting condition of a room should be checked prior to choosing what color best suits the surface walls. This is one residential painting service that is done at different times of the day. These experts have to determine the direction from where natural light originates along with the type of artificial light that suits best – as follows:
From the North: The bluish or greyish light color produced by this natural light blends well with hues of Coral, Cream, pale Pink or light Orange.
From the East: The bright light coming from this direction is best matched with light colors such as Pink, White and Yellow.
From the West: With light subdued at the latter part of the day; Green, White, Yellow and their complimentary colors are ideal.
From the South: Natural light from this path is the strongest and attuned with color shades of Blue, Green and Lavender – which likewise intensifies earth tones.
From the above-mentioned, it is certain that most homeowners desire an abode as relaxing and as stimulating it can possibly be. If you are in the vicinity of Atlanta and you need more information on natural light and paint colors that will delight and uplift your spirit, let Southern Perfection Painting Inc. further discuss with you additional home painting ideas. SPPI can provide everything you need to know – from the selection of colors to the proper maintenance of paint finishes.
As a painting contractor, Southern Perfection Painting Inc. has a pool of qualified exterior and interior painters who can definitely accomplish any painting job according to your preferences and expectations. The quality of their workmanship is guaranteed to satisfy all their clients – whether as business owners or as homeowners. This is the assurance of SPPI in all their commercial and residential painting job contracts.
SPPI
Average rating:
0 reviews