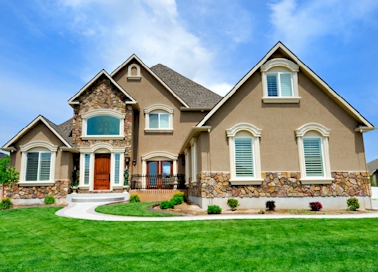 The 3-Color Scheme Preferred by Homeowners
Residential painting is usually based on the personal preference of the homeowners. A number of homeowners specify a color that will represent each component of the house structure. Often times, a three-color scheme emphasizes the exterior house structure. Each color represents a part of the three components comprising this particular structure, as follows:
Body: The front, back and surfaces of the house which are painted with a siding color.
Trim:  These are the doors and window frames that use another paint color so as to differentiate these vertical elements from the surface or body of the house.
Accents: These are identified with a third color that is applied to a part of the structure intended for a specific purpose – which is usually the door.
There are instances when the homeowner has limited choice of house paint colors. This is when a color theme for exterior residential painting is dictated within the area. In this case, the exterior painters can demonstrate their creativity in painting the house – with whatever 3-color schemes that have to be followed. These painters are in collaboration with their respective painting contractor who advises them about the color mix-and-match preferences of the homeowner. Such is normally based on which of the painting estimates is agreed between the parties.
 Do you have a three-color scheme in mind that you know will create an impression to your house? Let Southern Perfection Painting Inc. provide you with everything you need to know about house paint colors. As a painting contractor, SPPI has a pool of qualified interior and exterior painters. Whoever they recommend will certainly accomplish any painting job according to your preference and expectation.
Furthermore, Southern Perfection Painting Inc. quotes very reasonable residential painting estimates. These include an all-in painter contractor package. They also do commercial painting, and in the same manner with residential painting; the quality of their workmanship is guaranteed to make your house stand out.