It Is Ideally At Least 6 Months From Completion
Residential painting services include proper care and maintenance of the property. Any local painting contractor will likely recommend this service to homeowners. Most homeowners will, undoubtedly, avail this service. It keeps the luster of the paint colors and wall finish of the surface walls of their home. After all, a house is one major investment.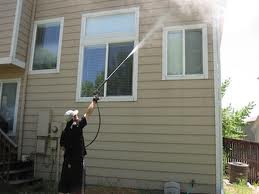 Proper care and maintenance of the exterior walls is scheduled. It is ideally at least 6 months from completion. It is one among the so-called post residential painting services. However, it is often considered as needed.
Moreover; experienced exterior house painters do not only paint roofs, walls and floors. They, too, are knowledgeable on all stages in residential painting services. These painters keep up the essentials on proper care and maintenance of surface walls such as:
A routine check for any unusual sights like mildew, or unforeseen defects (bleeds, bubbles, chalking and cracks) on the surfaces
Removing mildew using the appropriate solution (and avoiding strong chemicals)
Doing the necessary precautionary or preventive maintenance on the defects (which rarely happen on walls done by the professionals)
A thorough clean-up of the exterior surface walls (at least on a yearly basis)
Washing the exterior areas using pressure (or with hose and water)
Residential painting services on proper care and maintenance should be on a regular basis. The early intervention on potential surface painting issues are resolved faster. It also minimizes any inconveniences on the family members.
If you need more information about the nitty-gritties on residential painting services, SPPI can assist you. SPPI is well-known as a local painting contractor in Atlanta GA. They have a pool of professional and skilled interior and exterior house painters. These painters are well-versed on paint colors. They can also further discuss with you the commercial and residential painting services SPPI offer.