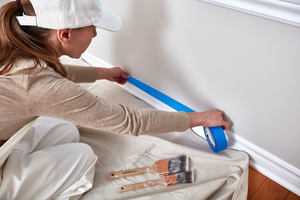 Qualifying Exterior and Interior Painters
Residential home painting the wall surfaces entails precision and diligence. These are common traits interior painters possess which continuously hone their skills. Their primary goal is to complete the projects assigned to them by their painting contractor with extraordinary, if not the best, outcome.
On the other hand, homeowners may propose home painting ideas to these painters. These ideas may vary from paint colors to painting procedures the homeowners prefer or think as better options. Whatever inclinations these are from the owners, any professional interior or exterior painter sees to it that these will not be at the expense of their quality work and service.
In line with the above-mentioned preferences of homeowners, the following are 3 residential home painting procedures professional painters avoid:
Priming dirty walls
Skipping the necessary prep works to repaint surfaces with chipping or peeling paint
Leaving hardware on surface walls, such as electrical plates, uncovered or unmasked with tape prior to painting
What is more? Homeowners dream not only owning a house, but desire an abode as delighting, relaxing, stimulating and uplifting to the spirit as it can possibly be. One better way of achieving this is a partnership with Southern Perfection Painting Inc. if the property is located in the vicinity of Atlanta GA. SPPI can further discuss with you additional home painting ideas as well as provide you with everything you need to know from the selection of paint colors to the proper maintenance of the finishes.
As a painting contractor, Southern Perfection Painting Inc. has a pool of qualified exterior and interior painters who can definitely accomplish any painting job according to your preferences and expectations. The quality of their workmanship is guaranteed to satisfy all their clients – whether as business owners or as homeowners. This is the assurance of SPPI in all their commercial contracts as well as their residential home painting projects.