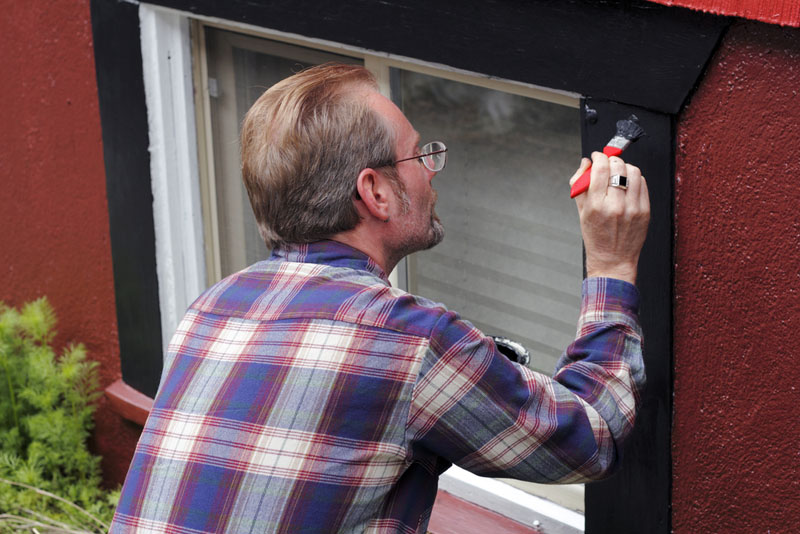 These residential painting tips and examples will explain the best way you can care for your paint rollers and brushes so your paint jobs would be easier and neater:
Trim off the ragged roller edges
The tiny beads and ragged edges of dried paint on a paint roller may look harmless, but they will mess up your paint job. Trim them off and leave a tapered edge, or else your roller will make tracks in your paint as you work.
Clean your brushes with a golf club brush
An old golf club brush is excellent for removing the coat that builds up on paintbrushes. The plastic bristles will help scour away most of the resulting crust without damaging the brush. The brass bristles will really remove stubborn spots in the end.
Wash out the paint
If you want to prolong the life of your synthetic brushes, you will need to make sure you clean them as soon as you're done using them. Wipe the brush on some newspapers or paper in general to remove excessive paint left over, and then place it in a bucket of warm water, moving it around to get most of the paint off as you can.
Removing the fuzz with a lint roller
Cheaper paint rollers will shed all over the place, so you will need to solve that in some way.  The great thing about them is that they can be treated as disposable. Before you move on to using one, you may want to wipe it off with a lint roller to get all the fuzz off of it.
Hooking up your hose to a faucet
If you do have to deal with a lot of roll-on painting, then you may want to use a good quality roller to get the job done. Using a roller washer will also help you get the best results. This will allow you to keep your rollers really clean, a task that will take a good amount of time by hand, but it will really keep it neat and easier to deal with in the long run.
Use a 3 inch brush to cut in ceiling edges
You can cut the perimeter of your ceilings with a ceiling white and a 3 inch brush. Don't worry about it overlapping the wall. You should roll on a second coat of ceiling paint in a different direction than the first.
Keep bristles away from the bottom of your jar
You need to soak brushes in solvent, but doing so without bending the bristles and ruining your brushes. You can clip a big binder around the handle of your brush, spreading the arms so the bristles won't touch the bottom.
Hanging brushes on a wire or rod
This is another way of doing some cleaning by installing some screw eyes on a bottom rafters or maybe floor joints. Once you do that, you can thread the brush handles with a stiff wire or a welding rod and hang the brushes up so they can dry off safely.
More paint brush and roller cleaning ideas.