Carpentry and Painting
SPPI is a painting services company, and we, painters, work hand-in-hand with carpenters.  And if ever you might need one, here's a guest post from builders clearance Fulham, giving us a brief overview of what we should know about carpentry and finding carpenters.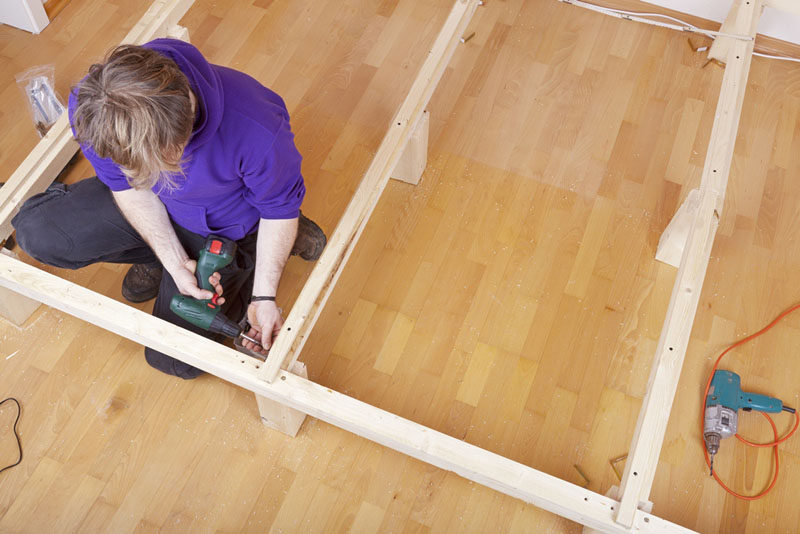 What does a carpenter do and when might you need one
Carpenters are very skilled craftsmen who can do a variety of work ranging from making furniture to helping with the construction of buildings. The work requires a lot of artistry talent and attention to detail to produce quality workmanship. Carpentry requires a lot of skill and knowledge and the two qualities must go hand in hand. Carpentry is probably one of the oldest trades around and many carpenters still use traditional methods when working; they also work with the latest technology in the market. Carpenters don't necessarily have any formal qualifications but will have received a lot of training or on-site experience. Carpenters mainly work with wood, but they also work with other materials such as steel. They can, for example, build house frameworks, walls, roofs, install doors, windows, flooring, cabinets, stairs, they are involved in the cutting and shaping of materials and in the making and installing of cabinets. Because carpenters work with different machines they need to have good mechanical skills. They also use many different tools such as chisels, nail guns and welding machines. They will use a tape measure on nearly every project ensuring that everything is measured precisely which in turn reduces inaccuracies such as gaps between windows and frames.
Their work is most rewarding as carpenters take pride in their work and can create a variety of things with their hands. Some carpenters have a broad range of skills others specialize in one or two main areas so that they can develop significant expertise.
A good carpenter must:
have physical strength to lift heavy objects like doors;
be good with his hands;
have good balance for working on building sites if subcontracted to do work there;
study blueprints and have good estimating skills to calculate sizes, distances and quantities;
have a good eye for detail, steady hand and ability to stand for long lengths of time;
have many personal skills for he works closely with customers and as such he should be able to understand their needs.
Can you benefit from the services of a carpenter?
Certainly if you need cabinets installing in your kitchen or a bespoke wardrobe making for the bedroom, they could enhance the value of your property. Your house will look tidier and less cluttered if cupboards are built. And if there is bespoke furniture, then it's even better! Carpenters have an eye for style and designs and know what it takes to make a room look perfect. A carpenter can help you with the designs, so for example, with your input, he can build storage units which will not only be practical and fit in with your surroundings but also will be very individually made and to your exact requirements. With a skilled carpenter you always know that everything made will be done to a very high standard so there will be no loose hinges or drawers that jam for example! You also know that what he makes for you will be unique and not available on the high street.
A good carpenter should first listen to you, measure your space availability and suggest suitable solutions. He should provide a quote and specify the cost of materials and labor separately. He should also have an address. A bad carpenter on the other hand provides a low quote without seeing your home first and knowing what you want him to do. They might also be unwilling to provide references. Don't just go for the lowest price, it might end up with you not liking the service and having to spend more money to get the original work done how you wanted it.
This article is contributed by: builders clearance Fulham
We welcome guest bloggers and article contributions. Please read our guidelines for guest posting.