The Differences Between Low-VOC And Zero-VOC Paints
Residential painting facts are very reliable in the completion of a home. Paint colors give an appeal to home, yet these should also come from good sources. These sources refer to brands and materials.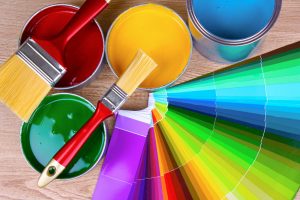 Local contractors are updated on the latest trends with regard to painting designs, materials and products. They, too, are aware of the residential painting facts with regard to paints. The aforementioned trends and facts are all important to them as these are what they incorporate in the painting services they provide. The interior painters in their team are likewise informed, in particular, on the differences between low-VOC and zero-VOC paints. A number of these are as follows:
Low-VOC paints still have a few volatile organic compounds in the paints
Zero-VOC or no VOC paints literally no longer have the said compounds
Genuine or authenticated zero-VOC paints are classified as eco-friendly
Tinted low-VOC or zero-VOC paints obtain additional VOCs
Regular tints contain more than 50% VOCs
Lighter regular tints have lesser VOC content compared to darker regular tints
Available VOC-free tints are 99.7 at the most
Indeed, a home that is stimulating and uplifting to the spirit is a delight. This is essentially what every homeowner dreams – a relaxing dwelling place. Come to think of it, attaining this is a process.
If you are in the vicinity of Atlanta GA, you can rely on Southern Perfection Painting Inc. A partnership with SPPI likewise eases the aforementioned process. Everything homeowners need to know will be tackled at SPPI. You may inquire about zero-VOC paints as well as the selection and combination of paint colors, and other painting services SPPI offers. SPPI can also further discuss with you more residential painting facts.
As a painting contractor, Southern Perfection Painting Inc. has a pool of qualified exterior and interior painters. These painters can definitely do any painting job – according to your preferences and expectations. The quality of their workmanship is guaranteed to satisfy all their clients. Their customer service is fair to all, business owners and homeowners alike. This is the assurance SPPI undertakes which is according to commercial or residential painting facts and details.