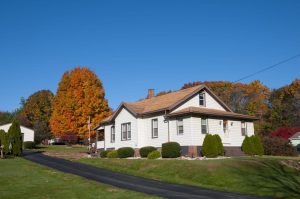 Ideas for the Fall Season
Do you know that residential painting in fall is still possible? You read right, and before asking further questions, it is noteworthy to know that exterior house painters are confident their painting job at this time of year can last a long time. Even the painting contractor you nominate will guarantee that such exterior residential painting they provide can stand extreme weather conditions that usually occur during the fall season.
Generally, there are a couple of main exterior home painting ideas that should be remarkably considered. These are as follows:
Minimum Temperature Required
This varies according to the kind of paint to be applied: Sherwin-Williams premium paints can be applied for temperatures as low as 35 degrees Fahrenheit
Watch out for the sudden rise and fall of the temperature: Early fall prior to the first frost is a thumbs-up to proceed with the job
Check the average low temperature in your location: Temperatures are different in each state
The Source of Moisture
Paint colors are best applied on a dry surface: The exterior surface is totally dry at least 24 hours after a hard rain
Determine where the moist on the surface originated: Moist directly occurs either from frost or air humidity
Consider the indirect source of moisture as well: Dews are likely to form at night regardless of the temperature six hours prior to nightfall
Let Southern Perfection Painting Inc. discuss with you more house painting ideas for the fall season. SPPI can provide everything you need to know about residential painting such as house paint colors in relation to different residential architectural framework designs.
As a residential painting contractor, Southern Perfection Painting Inc. has a pool of qualified interior and exterior house painters who can certainly accomplish any painting job – according to your preferences and expectations. They also do commercial painting, and in the same manner with residential painting; the quality of their workmanship is guaranteed to satisfy all their clients.