Expert Interior Painters Reveal the Best of Gray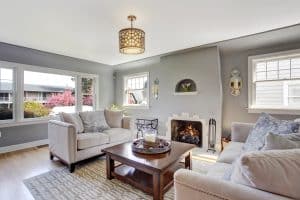 A number of residential painting colors have yet to be uncovered in terms of its potential appeal and impact when applied to wall surfaces. These are the hues and tones homeowners usually consider as dull paint colors. Some are even resigned to the fact that these have no striking effect at all – and one of these is gray.
Surprisingly, the monotonous appearance of gray can shift to something fascinating as it can be extraordinary. Any local painting contractor can present and discuss to their clients, the homeowners, how this is possible. Also, there are quite a number of home painting ideas on the various remarkable aspects gray can be applied as the primary color to wall designs.
With proper residential painting application to wall surfaces done by professional interior painters, the incredible features of gray are revealed as follows:
It is neutral: It can be matched to any color
It is a versatile color: It can be used as a hue or undertone
It can either be classified as cool or warm color: It can be used in different shades
It is neither too bright nor dull: It brings out a positive aura to the area. room and space
It has several variants: It can also be used to accent wall designs
Every homeowner, undoubtedly, desires an abode as relaxing and as stimulating it can possibly be delighting and uplifting to the spirit. If you are in the vicinity of Atlanta and you need more information about hues and undertones, let Southern Perfection Painting Inc. further discuss with you additional home painting ideas. SPPI can provide everything you need to know – from the selection of paint colors to the proper maintenance of the finishes.
As a painting contractor, Southern Perfection Painting Inc. has a pool of qualified exterior and interior painters who can definitely accomplish any painting job according to your preferences and expectations. The quality of their workmanship is guaranteed to satisfy all their clients – whether as business owners or as homeowners. This is the assurance of SPPI in all their commercial and residential painting job contracts.