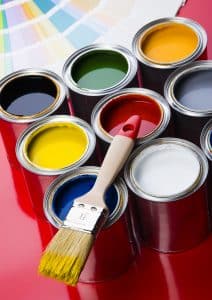 Paint Colors in Shades of Blue
Paint colors play a major role in residential painting. As a matter of fact, interior painters believe that the right color choice on the part of homeowners is very important. Their preferred local painting contractor can even assist or give suggestion to them about their final color selection.
Moreover, home or residential painting ideas regarding selection of colors are an alternative homeowners can count. It is surprising to know that the color which was predicted to trend this year will continue thereafter. What then makes Blue in different shades ever-dependable in residential painting?
Benjamin Moore considers their "Colour of the Year for 2014 is Breath of Fresh Air (colour number 806)": This shade is what they define an "Ethereal Blue" – a "new neutral" – that is relaxing and refreshing"
Almost all color palettes include Blue: It is classified to bring calmness, comfort, peace, relaxation and stability
It is a perfect combination to any variations of Grey, Purple and Violet
Any shade of this color best defines wall designs that represent fields, nature, waves, and the like
Undoubtedly, most homeowners desire an abode as relaxing and as stimulating it can possibly be. If you need more information about the variations of Blue for your residential painting services, and are in the vicinity of Atlanta, let Southern Perfection Painting Inc. further discuss with you additional home painting ideas. SPPI can provide everything you need to know – from the selection of paint colors to the proper maintenance of paint finishes.
As a painting contractor, Southern Perfection Painting Inc. has a pool of qualified exterior and interior painters who can certainly accomplish any painting job according to your preferences and expectations. The quality of their workmanship is guaranteed to satisfy all their clients – whether as business owners or as homeowners. This is the assurance of SPPI in all their commercial and residential painting job contracts.