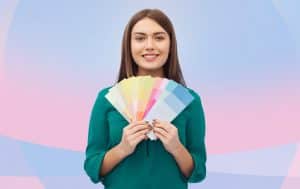 Cool and Warm Colors as Home Painting Ideas
Interior residential painting can make the room look spacious as it can be creative and even inviting to set the mood for conversation. This is essentially the outcome of the right selection and combination of paint colors. Homeowners usually make their decision regarding this after discussing it with their chosen local painting contractor.
Moreover, homeowners are also resourceful to check on home ideas published in magazines or on the web. What is surprising is that they even ask the opinions of the interior painters before and during their residential painting services commence. They need to be assured that every detail done on their interior wall surfaces is what they expect to have.
Here are basic home painting ideas to start off the process of determining what combination of colors are to be mixed and used:
The color base that is mixed with other paint colors is classified as the undertone
An undertone is blended with other colors, hence, it no longer appears as it is in the mixture
Cool colors such as green and purple use blue or grey undertone
Warm colors like orange and red has yellow as the undertone
Cool colors are the perfect match to nickel finishes and dark wood surfaces
Warm colors blend well on brass finishes and light wood surfaces
Any furniture covering goes well with these color categories
From the above-mentioned, it is certain that most homeowners desire an abode as relaxing and as stimulating it can possibly be delighting and uplifting to their spirit. If you are in the vicinity of Atlanta and you need more information on cool and warm colors, let Southern Perfection Painting Inc. further discuss with you additional home painting ideas. SPPI can provide everything you need to know – from the selection of paint colors to the proper maintenance of the finishes.
As a painting contractor, Southern Perfection Painting Inc. has a pool of qualified exterior and interior painters who can definitely accomplish any painting job according to your preferences and expectations. The quality of their workmanship is guaranteed to satisfy all their clients – whether as business owners or as homeowners. This is the assurance of SPPI in all their commercial and residential painting job contracts.