Springtime Exterior House Repainting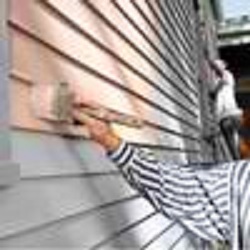 Expert residential painters know that excellence in their work depends a lot on the weather. An optimal weather enables them to produce the best painting result. These exterior painters give the right advice to homeowners, particularly when their work entails exterior house repainting.
When is the weather optimal then? It is at the onset of spring, and at times, during fall. It is often the first few weeks of spring when the temperature is not too hot or too cold. Local house painters are very confident of what the outcome of their repainting job will be. Moreover, the best paint contractor see to it that their painters follow several steps in exterior house repainting, not merely painting the surfaces of the exterior.
These steps may be basic to experienced residential painters, yet these are considered the most effective exterior residential painting procedures; as follows:
Wash dirt and paint residues.
Scrape the painted areas that are blistered, bubbled or peeled.
Sand the areas with loose paint or that tends to fall off.
Fill in or patch minor crack and dents.
Prime the surfaces to be painted.
For the exterior made of wood, use caulk to even joints, sides and trims.
Apply paint on the surfaces with a minimum of 2 coats.
For more details on exterior residential painting, let the expert exterior painters of Southern Perfection Painting Inc. assist you. The residential painters of SPPI can do the work for you – giving you the best result. Let Southern Perfection Painting Inc. be your local paint contractor. SPPI not only specializes in residential painting, with their pool of local house painters, but in commercial painting as well.