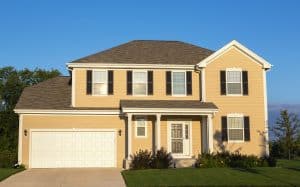 Home Painting Ideas on Exterior Paint Colors
The selection of exterior paint colors in home painting as per our residential painters is very basic, and apparently an easy task. There are also a lot of home painting ideas ensuring that the color scheme on the exterior wall surface is hassle-free. However, there is sequential approach in this preliminary stage.
Homeowners become even more involved in this particular aspect in residential painting knowing that there is a time frame. Exterior residential painters likely come to an understanding with their local painting contractor who encourages the way homeowners are discreet. The time frame may not be followed accordingly, yet it helps to know the details.
Six months prior to summer, spring or fall – seasons considered the appropriate time to paint: Research as well as observe within the neighborhood on possible 3-color schemes that complement.
Following the first step: Assess the material of the exterior surface wall and the color scheme to be applied to it.
One month before the scheduled painting job: Obtain paint color sample cards for color mix-match.
Two weeks after the previous step: Finalize the color scheme for the exterior walls by getting swatches and placing these on the walls, siding and accent portions for approval.
From all of the above-mentioned, determining the most appropriate color scheme on surface walls is essential. If you are in the vicinity of Atlanta and need more information about house painting, let Southern Perfection Painting Inc. further discuss with you exterior home painting ideas on selecting paint colors. SPPI with experienced residential painters can provide everything you need to know.
What is more? As a painting contractor, Southern Perfection Painting Inc. has a pool of qualified interior and exterior house painters who can certainly accomplish any painting job – according to your preferences and expectations. The quality of their workmanship is guaranteed to satisfy all their clients. This is the assurance of SPPI in all their commercial and residential painting job contracts.