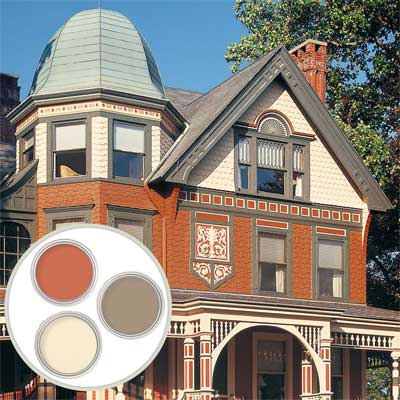 Classify Old Houses with Exterior Paint Colors
It takes a lot of confidence when residential painters and residential painting contractors accept the task to work on old houses at a reasonable house painting cost. Doing so means that they are familiar with historic color palettes and you can truly rely on their knowledge and capability as well.
You will be amazed at how these expert residential painters explain how old houses were classified according to the exterior paint colors. What made each design distinct from each other was basically the combination of colors. This was the trend of the era – and the main point of residential painters – such as the following:
House that were categorized as southern architectural style had white, gray, tan and dark-colored shutters along with fancy trims.
18th century colonial houses were stand-outs with color paints of red, yellow and orange. The trims and columns of the exterior were accentuated with white color.
The 19th century houses were identified from the Queen Anne design painted with earth colors.
20th century houses until the mid-70s were painted with colors of autumn – brown, gray and green. These bungalow type houses emphasized architectural details with bold trims.
Do you need painting services for an old house? Check these valuable tips on choosing colors for homes here. You can also let Southern Perfection Painting Inc. assist you. SPPI analyzes and matches exterior paint colors that will retain the historic look of your ancient house. They have a pool of qualified residential painters who can do the work for you – according to your preference.
Furthermore, Southern Perfection Painting Inc. is distinctly recognized in its industry of commercial and residential painting contractors. This means that you need not think twice – bring up whatever painting needs you have. SPPI guarantees that even with the affordable house painting cost they offer, their residential painters will never sacrifice the quality of their work.