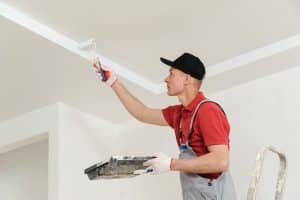 Designs and Paint Colors on the Fifth Wall
Do you know that in residential home painting, there are 5 walls to consider? Yes, you read the number right. Interior painters count the ceiling as the fifth wall.
Furthermore, the reliability of your choice of painting contractor matters most – through his or her experiences and various projects completed. This local contractor will undoubtedly recommend paint colors, faux finish or even decorative wallpaper applied on the ceiling. How then can a ceiling be as fascinating in the same way the other four walls are decorated, designed and painted?
Here are a number of helpful information and residential home painting ideas regarding the fifth wall:
There are several types of ceiling to choose from: Beams and wallboards are less inexpensive yet architecturally can be elegant
Decorative beams call attention to the overall appearance of the house: There are many styles and designs these are done
Faux designs are common to beam walls: These usually look like solid wood or plastic-coated in pseudo wood
White is typically the color painted or used on the ceiling: It can be easily matched to any kind of artificial light – and natural light as well
Wallboard ceilings in warm or cool colors are remarkable:  The outcome is a unique appeal of the home
What is more? Homeowners dream not only owning a house, but desire an abode as delighting, relaxing, stimulating and uplifting to the spirit as it can possibly be. One better way of achieving this is a partnership with Southern Perfection Painting Inc. if the property is located in the vicinity of Atlanta GA. SPPI can further discuss with you additional home painting ideas about the fifth wall – as well as provide you with everything you need to know from the selection of paint colors to the proper maintenance of the finishes.
As a painting contractor, Southern Perfection Painting Inc. has a pool of qualified exterior and interior painters who can definitely accomplish any painting job according to your preferences and expectations. The quality of their workmanship is guaranteed to satisfy all their clients – whether as business owners or as homeowners. This is the assurance of SPPI in all their commercial contracts as well as their residential home painting projects.