Local Painting Contractors Generally Offer Repainting Services
Industrial painting solutions provide better ways interior or exterior painters resolve flaws on surface walls. The task is basically in the preventive maintenance of exterior surfaces of the commercial area. With these on hand, local painting contractors generally offer repainting services.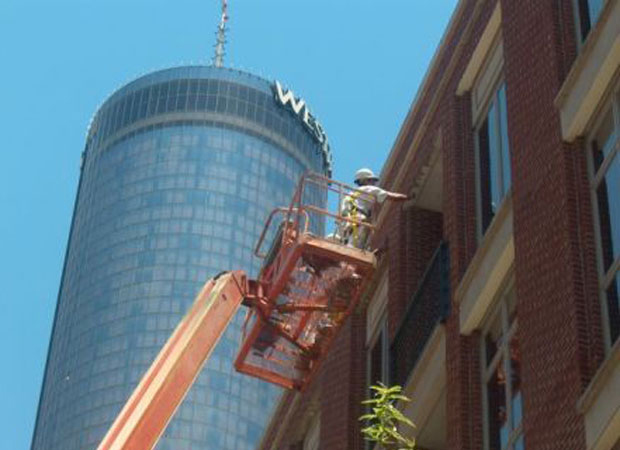 The said services include preliminaries to the actual application of paint. Doing the preparations entail determining the right industrial painting solutions that correspond to the damages. Commercial painters need to be very experienced on this. They should be able to recognize which industrial painting solutions best resolve the imperfections visible (or even invisible) on the surface. They take this as a challenge to test their skills.
The following are 5 industrial painting solutions related to the preliminaries on concrete wall surfaces:
Cleaning the weep ports: Removes clogs in the wall drainage system in order to deter impending moisture problem
Installing new mortar joints: Replaces the old and weak ones to avoid the spread of mildew and growth of moss
Sealing small cracks: Prevents water, either from moisture or rain, to seep through the surface
Patching peripheral imperfections: Hinders internal damage and which also results to a smoother surface
Applying primer coat on the surface wall: This is 1 factor that keeps the wall finish resistant to any weather conditions
There are more industrial painting solutions that are helpful in maintaining surface walls. Business owners in the vicinity of Atlanta GA can learn more on these from the commercial painters of SPPI  SPPI is among the local painting contractors trusted by many in the said area. Their interior and exterior painters are trained and well-equipped on residential and industrial painting solutions.
For almost 3 decades in the industry, SPPI guarantees quality of work in all their painting and repainting services. They ensure perfection (and uphold to its company name) in all the residential and commercial painting they undertake. You are also assured of superior results as SPPI abides to residential and industrial painting solutions deemed necessary.