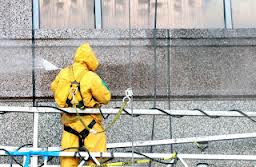 If majority of expert industrial painters are exterior painters, they have the confidence to convince business owners to prioritize the maintenance of the exterior of their office building. Commercial painting contractors will discuss with them that industrial painting jobs are not only confined to painting. They will prove that even without any re-painting done, the exterior paint of the commercial or office building can appear as though it is newly painted.
This is pressure washing. The industrial painters are aware that if this is done properly, this will be beneficial to any business owner, particularly in maintaining their commercial buildings on a regular basis. Here are the advantages:
Pressure washing is not costly: It tailors to the desired budget.
Any painting contractor attains the desired result in little time: The commercial building looks good as new.
People are easily attracted to any building that looks new: The business gains potential customers from these people.
Do you now want to bring back the paint gloss or shine of your commercial or office building? Among the commercial painting contractors, Southern Perfection Painting Inc. sees to it that standard re-painting procedures are properly done – which starts with pressure cleaning or washing. They can provide a pool of experienced exterior painters who can pressure wash for you – the outcome of which is the lustre of the building you expect to see once again.
Awarded as top painting contractor, you can always count SPPI for any industrial painting jobs from pressure washing to exterior painting. Southern Perfection Painting Inc. guarantees that their industrial painters will never sacrifice the quality of their work. What is more? SPPI not only specializes in commercial painting, but in residential painting as well.