Consider The Alternative First
Industrial painters who are also expert exterior painters are bold enough to convince business owners about prioritizing the maintenance of their establishment. These painters have such confidence for 2 reasons. First of all, having a local painting contractor maintain a building will make the commercial or industrial business establishment last longer and look good as new. Secondly, business owners should note that industrial painting jobs are not only painting and re-painting wall surfaces. There are more to these.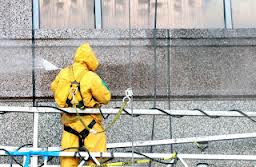 Pressure washing is one industrial painting job in maintaining a building. The industrial painters do this accordingly and regularly – as this is beneficial to business owners. 3 of these advantages are as follows:
Pressure washing is affordable: It is flexible on the budget
Professional industrial painters accomplish the job in less time obtaining the desired result: The building looks good as new
The business attains more potential customers: People easily find it attractive, hence, create good impressions on any building that looks clean and spotless
Are you thinking of bringing back the paint gloss or shine of your commercial establishment? A positive response will undoubtedly gain positive results to your business. Moreover, if you are in the vicinity of Atlanta GA, the industrial painters of Southern Perfection Painting Inc. will be of valuable help. SPPI has a pool of interior and exterior painters. These painters are equipped and trained to bring back the lustre of your building as in its new condition.
Recognized as top painting contractor, you can count on Southern Perfection Painting Inc. for any industrial painting jobs from exterior wall painting to pressure washing surface walls. SPPI is also among the most trusted painting contractors that see to it standard re-painting procedures are properly done. These include pressure washing or cleaning. Southern Perfection Painting Inc. will not sacrifice the quality of their work – be it on residential or commercial painting. This is the guarantee business owners can expect from the reliable industrial painters of SPPI.