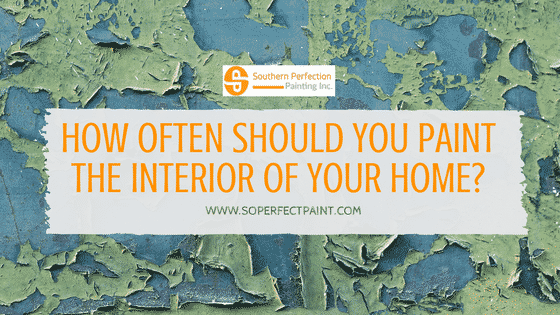 How Often Should You Have to Paint the Interior of Your Home?
As a homeowner, having the nicest house possible is likely your goal. You want a place that will wow people as they enter into the space. You may be wondering "how often should I repaint the interior of my home?" which is a very common question to ask. The fact is that there are a lot of different factors that go into deciding how often you should. This will give you some tips about Atlanta house painting and how often you should refresh your interior paint.
One factor to consider is the durability of the paint.
If you splurged on the most expensive and high quality paint possible, this paint could last up to 10 years or more. Lesser quality paint could often lead you to painting a lot more often than you would probably care to. The quality of the paint is only one of the factors that affect the quality of the paint. When you choose a higher gloss paint, this is going to be easier to keep clean whereas a matte finish paint cannot be scrubbed clean. This means that you may need to paint more often because your walls get too dirty. Lastly, the painter can affect the quality of your paint. If you have a professional painter, they will use the paint more efficiently and ensure that the paint is applied correctly. That will make it last longer so you can hold off repainting the space.
Various rooms will also need to be painted more often than others.
Spaces like hallways and other corridors will often need to be repainted every few years, which is the same amount of time from bedrooms. Rooms like the bathroom, kitchen, and laundry room may be painted every 3 or 4 years as these also have a lot of traffic in them. Living rooms and dining rooms will not require repayment as often as these other rooms. You also have to consider the structural integrity of the space, as some walls may not be made from the best quality drywall.
There is also the design factor.
Maybe you want to update the color of your space because you are bored with it. Perhaps you purchased new furniture and want to repaint the space to match your new items. You can outgrow a color as can the rest of your family. You may also want to change the color of the space just because you want to keep up with the constantly changing trends in interior design. You may not want to do this every time there is a change in trends, but maybe a new trend has caught your eye. Whatever the reason, you may just feel like it is time for you to update the space with a brand new color.
If you need a new paint job in your residential or commercial space, contact SPPI today. You can visit our website www.soperfectpaint.com to learn more about our services and to get in touch with us.