Ever wonder why people use professional painters to painter their home, instead of doing it themselves? The answer is simple. When it comes to the exterior or interior painting, painting requires a lot of patience, requirements, and skill. Sometimes people don't have the time to paint. Or would rather relax. Other people think of it more like a do it yourself project.
Either way, it can be very rewarding when the project is finished. To achieve the desired professional look it is advised to hire a professional painter. Following you'll learn why it is better to hire a professional and not make it into a do it yourself project.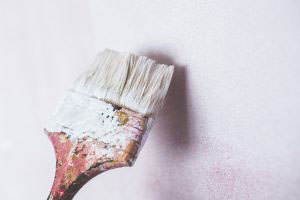 Professional painters go through major prep work. They know that you have valuables that could be ruined with paint so for that, they take all necessary precautions to protect, furniture, landscaping, and floors before painting. Most professional painting companies are fully licensed and insured. You should never work with a painter who is not. Hiring a company who is fully licensed and insured will protect you in the case of an accident around your home.
Painting the exterior of a home while hanging 20 plus feet off the ground can be difficult and dangerous. You must have sufficient equipment like ladders and scaffolds, professional painters already have this and more to make sure the job is done safely and efficiently. All painters should use drop cloths or tape and paper to avoid damaging other areas in case of spilling or splattering. For a homeowner to purchase these supplies it can get very expensive.
A professional painter will only use paint that gives beauty and one the is durable. They use top of the line equipment to make sure the job is done right and on time. A homeowner who does not specialize in painting may not know what type of paint is better in one area and not the other. Yes, using different paints in different areas can make a difference. Professionals have the knowledge to know which is better to use as well as the brushes and rollers.
The cleaning, a professional company will always clean up after themselves. They leave the job site in pre-job conditions. You never worry about who's going to clean the mess. An experienced painting professional makes a lesser mess than a do it yourself project would. And a plus, they know how to handle if any hazardous wastes that could be a piece of the job.
In conclusion, a professional painter is the best way to go from giving recommendations on the type and color of paint to the prepping, painting and the cleanup, they do it all.
SPPI
Average rating:
0 reviews