Is it time to freshen up a room in your home by removing wallpaper? Then this blog is for you. Read on to learn the tools you need to make this DIY project a quick fix. Learn how to prepare your walls for wallpaper removal, understand the different types of wallpaper and the different methods you can use.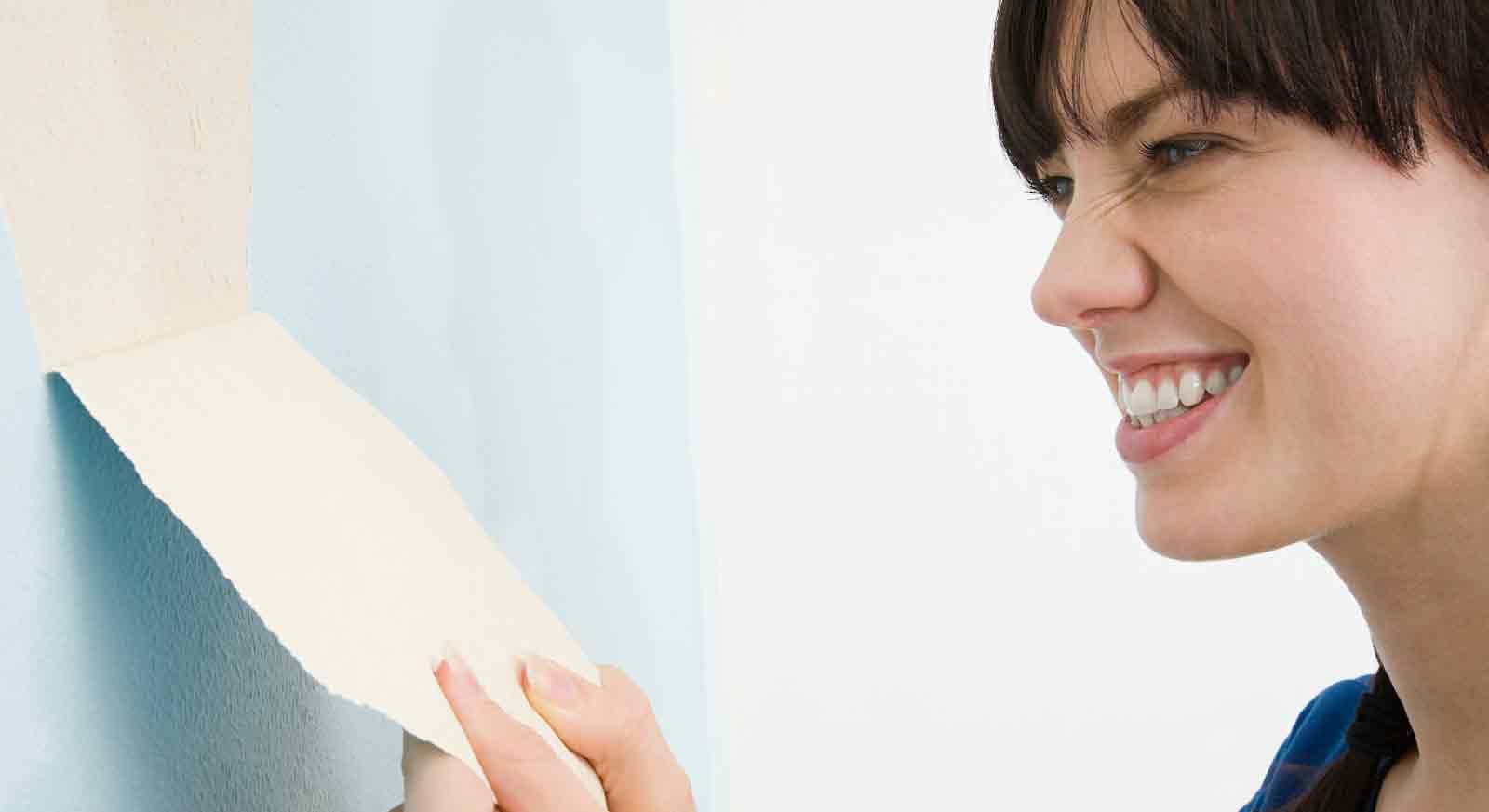 Prepare
In order to begin your wallpaper removal project take everything off the walls. Remove or cover all furniture. Cover up outlets. Have a garbage bag ready for quick disposal. Place a drop cloth down to make clean up easy.
Know the Type of Wallpaper
By knowing which type of wallpaper you have, you can pick a method that is best for you. There are three types of wallpapers:
1.Temporary wallpaper which should have an easy peel off.
2. Strippable wallpaper lasts longer than temporary wallpaper. This type of wallpaper softens easily when soaked with hot water.
3.Water-resistant wallpaper is designed to be moisture and steam-resistant. You will need a chemical remover for this type of wallpaper.
Helpful Tools
The tools needed for your project will vary based on the type of wallpaper you have. A paint scraper or putty knife can be used for most wallpaper types. Utility knives can be used to remove trim. Roller style scorers are effective and puncture dozens of tiny holes. Use these tools along with the removal products to ensure a quick and easy wallpaper removal.
Removal Products and Methods
You can use chemical liquid products such as DIF® Liquid Ready-To-Use Wallpaper Stripper. The chemical product will work quickly to break down the adhesive backing. Pro tip: Be sure to wear protective gear when handling liquid chemicals! When using this method, score the water-resistant wallpaper using light pressure when running the scorer over the wall to avoid scratching the wall. Use a spray bottle for quick and full coverage, but use a sponge or other tools in places where precision is required. Soaking time will vary on the type of product being used. Begin removing wallpaper from top to bottom with a paint scraper or putty knife.
Gel products are another effective option for clay-based adhesives. Piranha Gel Wallpaper Remover is a clinging gel that has a no drip formula for tough removal jobs. For the gel wallpaper removal method, score the area using light pressure. Apply the gel with a spray bottle, brush or roller. Soak for 20-30 minutes. Use a scraper to peel in strips.
Lastly, the steamer method is effective for old and stubborn wallpaper projects. This method is relatively easy and can be applied to any wallpaper type. For this method, fill a steamer tank with water and wait for the water to heat. Next hold and apply onto wallpaper for 30 seconds in small sections. Use an attachment for hard to reach areas, then remove with an angled scraper.
Be sure to check out the rest of our SPPI Blog for more residential, commercial and DIY painting tips and guidelines.  
Work with SPPI
---
Southern Perfection Painting, Inc. can quickly and expertly paint your interiors and exteriors.
We have residential and commercial painters ready to provide you with the expertise required to bring your vision to life. Using our process, our experienced painters will evaluate your painting project, quickly and thoroughly. We will then determine the best way to paint your residence or office and share with you our recommendations. Learn more about our free estimate and 100% guarantee now.
Our free estimate and evaluation include:
Quick initial phone complimentary consultation.
Complimentary virtual visits and in-person visits by our customer advocate team to evaluate are available. (For residential projects only.)
Delivery of a recommended plan that will take you from concept to completion.
Dedicated and experienced team of interior and exterior painters.
Reach out to us for a free estimate and consultation to help you choose the best option.
Trust your home or building to Southern Perfection Painting, Inc., and let us take the stress of residential and commercial painting out of your hands. Our estimates are free, and a call takes minutes. Get an estimate.
Make sure you are following us on Facebook, Pinterest, Instagram, and Twitter.
SPPI
Average rating:
0 reviews