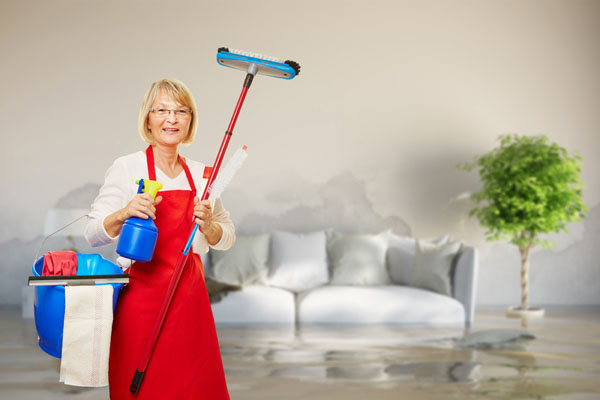 Be prepared!  This is a Girls Scout's motto… it is also the stance of Southern Perfection Painting Inc. on SOS call during adversities.  Whoever wants trouble?  Nobody, for sure all of us want to be always safe and secured.  Yet, natural calamities happen unexpectedly – rains… floods… storm… tornado… or what have you – tossing everything on its path as it fall.
The aftermath is unimaginable, evidently you just have to get on your feet and try to slowly pick up the bits and pieces.  Life must go on as usual… Continue your routine, a good start up point is to clean.  Keep going, you call this "grace under pressure."  How do you do it?  Here's how.
Collect the mess and clean-dry.  An electric blower is a good drying device.  Avoid portable oil or a gas heater for drying because they produce smokes or fumes.
Clean and disinfect the items that are still functional.  Discard those that do not work anymore.
For sure, your whole house stinks because of the murky water and wet surface.  Clean the affected parts of your house with soap and water –your ceiling, the walls, the floors, and even your furniture and appliances.
Apply bleach or sanitizers to stop molds from multiplying. You can prevent the growth of lichens, fungi or algae by applying anti-fungicidal solution at once.
Ventilate to keep the air fresh at all times.  It is good to turn your heater on, it does not only help in drying but will prevent moisture, as well.   Keep your windows open for proper ventilation.
When everything's dried up, you should contemplate on redecorating and re-painting.  Try to examine if there are peeling paints on your walls or ceiling.  Or efflorescence in the underlying sheetrock.  What is an efflorescence?  It is the formation of crystal substances on the sheetrock's surface caused by the evaporation of saltwater.  These surfaces, certainly, need to be refreshed.  Clean and smoothen with sand paper or a stiff non-metallic-bristles nylon brush.
Of course, on this job you will be needing help from a professional. SPPI can come in.  We are a company experienced in drywall removal, repair, installation, preparation, and painting. We can take care of your home renovation concerns and altogether, you and SPPI will work together to brighten your home again.  We assure good service to our clients – from consultation to cost estimates, free of charge.