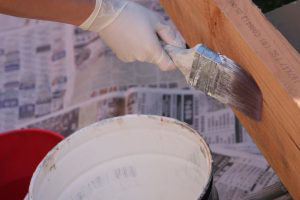 Curb Appeal Is Very Important
Having a home with excellent curb appeal means higher resale value and cuts time to resell if wanted. It adds thousands of value if done with beautiful landscaping and if well maintained. Curb appeal is very important in the home market. It is something that draws your attention at the first sight of the house. If your home lacks curb appeal then many won't notice it.
As soon as you start to notice cracking, peeling and blistering that is when you need to get a jump on painting. If you choose to abandon the problem it can just get more expensive and take more time to fix. Whether you plan to pull a do it yourself or hire a pro the following are tips to help you on your way.
There are two types of paints for the exterior of your home. These are water-based latex and oil based alkyd. The latex on is easier to clean up, quicker to dry and less likely to crack the alkyd one requires paint thinner but is more reliable, has a smooth flow and stain-resistant. They also dry slowly and have a strong odor.
Paint prices can vary depending on what you want. First, you need to figure out which is in your planned budget. The more expensive paint has more pigments. Meaning they will provide you with a thicker and more protective coating. Reading the labels on the paint cans can give you excellent tips on how to get a better paint job in the end.
Get the surface ready for painting. Wash off all of the mildew, mold, and dirt from the exterior. A pressure washer is the better choice here rather than using a scrub brush, soap, and water.  Take notice of all nails sticking out and gently tap them until they are just below the surface and scrape any blistering or flaking paint. Fill the dents with an exterior putty. Also if you need to paint any window trims outside your home and you are caulking make sure you use a caulk that it paintable.  
When you are ready to paint make sure you have a roller and a brush. Use a brush in the smaller more narrow areas, around windows, corners and the border.  Use a roller for the bigger surfaces. If you start to paint in the sun it can allow the paint to dry too quickly, always start in the shade.
Always paint from top to bottom. So you don't get over lapping marks, always brush from a wet surface to another wet surface. If that is not doable, overlap on the dry surfaces by a couple of inches.
Always remember ladder safety since you'll be painting up high. Don't overreach and stay horizontal with the ladder rails.